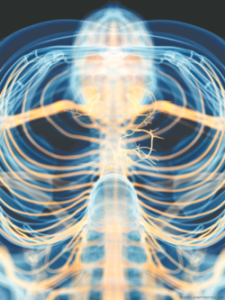 Over the past decade, a number of pilot studies have provided proof of concept for the use of vagus nerve stimulation (VNS) to treat rheumatic conditions. The studies represent an expansion of this treatment approach into rheumatology, building on years of scientific inquiry into the mechanisms of VNS on disease states that led to preclinical and clinical work showing its safety and efficacy to treat a range of conditions, including epilepsy, Parkinson's disease, bradycardia and, more recently, depression.
For rheumatology, a specialty rooted in the pharmacologic treatment of disease, using electricity to target the inflammatory processes underlying rheumatic diseases represents a novel approach that, if proved effective, could offer needed help to the many patients for whom current medications don't work sufficiently or are too difficult to tolerate.
"This is the brand-new field of neuromodulation for the treatment of autoimmune disease," says David Chernoff, MD, chief medical officer of SetPoint Medical, Valencia, Calif., the company leading the research on VNS for the treatment of rheumatoid arthritis. Citing current successful treatments in other fields, such as spinal stimulators for refractory pain, deep brain stimulation for movement disorders, VNS for drug-refractory epilepsy and implantable defibrillators for cardiac issues, Dr. Chernoff hopes clinical studies will show this treatment approach is both safe and effective for rheumatic conditions.
But much work is needed to establish a place for VNS in rheumatology. Proof-of-concept studies have paved the way for the first randomized controlled trials, but these are just getting underway. Many questions will need answering beyond the safety and efficacy of the treatment approach, such as for whom VNS is indicated, whether to use it as a standalone treatment or as adjuvant to other treatments and, if used with other treatments, which ones (e.g., biologics, Janus kinase [JAK] inhibitors). Such issues as cost and accessibility will loom larger once the evidence is in.
To date, the most advanced evidence for VNS in patients with rheumatoid arthritis (RA) is with the use of an implanted device to stimulate the vagus nerve, with smaller, pilot studies examining the effects of external stimulation of the vagus nerve. Going forward, but premature for this article, will be discussions on the pros and cons of each type of stimulation device.
Evidence to Date
The first pilot studies on the use of VNS in rheumatology focused on RA (see Table 1), with more recent studies looking at its use in primary Sjögren's disease, psoriatic arthritis/ankylosing spondylitis and osteoarthritis (see Table 2).