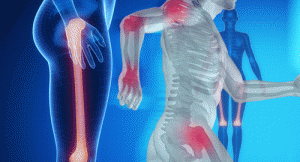 Osteoporosis affects 20% of elderly individuals and results in increased bone fragility and fracture risk. The development of new bone anabolic treatments for osteoporosis depends on an improved understanding of bone cell biology.
You Might Also Like
Also By This Author
Andrea M. Brum, a graduate student at Erasmus MC in the Netherlands, and colleagues examined the problem by combining genomic and bioinformatics tools to analyze estrogenic differentiating human mesenchymal stromal cells (hMSC). The researchers identified a lineage-specific bone anabolic compound, called parbendazole, that can induce osteogenic differentiation via cytoskeletal changes and increases activity of bone morphogenetic protein 2 (BMP-2). Parbendazole belongs to the class of compounds known as benzimidazoles, which are used primarily as anthelminthics.
ADVERTISEMENT
SCROLL TO CONTINUE
Brum and colleagues published the results of their gene expression profiling online on Sept. 28 in the Proceedings of the National Academy of Sciences.1 They used the Web-based program Connectivity Map (CMap) to identify compounds that stimulate bone. Using this process, the investigators found parbenzadole, a previously unidentified bone anabolic compound that causes osteoblast differentiation in a subset of the hMSC population.
"Using the CMap, we were able to identify a compound with a highly significant positively correlating gene expression profile to that of differentiating human osteoblasts," write the authors in their discussion. "As expected, the top of the list of compounds was dominated by glucocorticoids, including dexamethasone. However, the top resulting compound was found to be parbendazole. We confirmed the validity and power of the CMap approach by demonstrating that parbendazole independent of additional osteogenic stimulus, such as dexamethasone, is able to stimulate human osteoblast differentiation, as evidenced by increased [alkaline phosphatase] ALP activity, mineralization and up-regulation of genes known to be important in osteoblast differentiation and function."
ADVERTISEMENT
SCROLL TO CONTINUE
This approach allowed investigators not only to identify an important mechanism of lineage allocation, but also to demonstrate the significance of cytoskeletal organization in osteogenic differentiation. Specifically, the investigators found parbendazole upregulated BMP-2 gene expression and activity, and affected microtubules—highly dynamic cytoskeletal elements that undergo constant assembly and disassembly. Moreover, treatment with the BMP-2 antagonist DMH1 limited, but did not block, parbendazole-induced mineralization. The study joins a growing body of research that suggests microtubule inhibitors have a positive effect on bone formation and osteoblast differentiation via BMP signaling.
"In summary, we conclude that the CMap identified compound parbendazole is a novel compound that stimulates human osteoblast differentiation in vitro. We have proven that parbendazole, independent of additional osteogenic stimulus, stimulates ALP activity and mineralization, and up-regulates genes important in osteoblast differentiation and extracellular matrix production in a subset of hMSCs resistant to its apoptotic effects," write the authors. Their research provides a novel target for the development of future osteoporosis treatments.