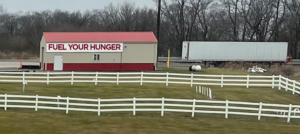 Admittedly, there's not much to see on a country road 100 miles southwest of Iowa City, Iowa. It's especially true in winter, when a blanket of white snow obscures any and all features of the seemingly endless fields of corn and soy. In the radiance of fresh snow on a bright winter day, even the rolling hills seem to mesh into one another. Yet this monotony is punctuated by the presence of signs. Some signs are advertisements. Some signs are political. Some signs are religious. Some signs are in English, others in Spanish or German, or even Swedish. But all are interesting because they provide an insight into the lives of the people that I am privileged to take care of.
Perhaps the most interesting sign I've seen in a very long time is a simple white sign with red font. It says: Fuel Your Hunger.
Fuel … Your Hunger?
When I first saw this sign, I had a double-take. A more complete message was found a few miles later down the road, which said "Fuel your hunger at the next exit." It's clear that it was for some sort of restaurant. But that's where I started to think, and perhaps overthink: Why would you ever want to fuel your hunger?
Satiate, quench, vanquish—a dozen other words could make sense here. If I were a marketer, I would think of "Fill your belly" or "Food to fuel you" or something along those lines. But to fuel your hunger isn't to get rid of it; it's to provide more of something you wouldn't like.
I passed the exit, but about a few miles down the road, I still felt this thought gnawing at me. I still had a good half-hour left on my journey to a rural clinic and the road was clear, without any other distractions. The radio signal had started to become staticky and my phone was running low on batteries. So here I was in the middle of Iowa, alone with my thoughts, zooming down a country road and rheuminating over this quizzical sign.
Hungry for What?
The first, and simplest, explanation was that the person who wrote that sign simply didn't know the meaning of the words. But what a terrible and condescending explanation that would be. Contrary to the harmful stereotypes that we often see on television and movies, rural folk know exactly who they are and what they want. They are also acutely aware of the condescension that people in other parts of the country direct toward them, and they—rightfully—deeply resent this form of prejudice.