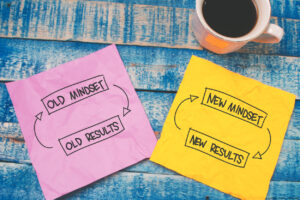 Spam, spam, advertisement, spam … wait wait, what's this? A small envelope, addressed from Maine. I wonder what this is about? Usually, when I get an envelope this size, it's a letter from someone trying to sell me something or complain about something I have no control over. So imagine my surprise when I found a short letter from Sidney R. Block, DO, referring to a Rheuminations column from the previous month. And it wasn't hate mail!
The letter read simply, "I enjoyed reading your musings. … One question: Did you ever stop by the farm and ask the person who put up the sign what he or she meant by [Fuel Your Hunger]?"
I was floored by the physical letter with positive feedback. I couldn't think of a better way to start the day—the nurses and fellows noted that I had an extra "pep in my step" (a wonderful Midwesternism, might I add). It made me think—rheuminate, if you will—about the need for positive thinking and positive doing. More specifically, this letter led me on a journey to explore Appreciative Inquiry (AI), a framework for translating strengths into meaningful outcomes and strategic plans. The more I read and the more I learned about AI, the more I became a firm believer that what we need in this day and age is Appreciative Rheumatology.
What Is This AI?
When I say AI, chances are that Appreciative Inquiry is not the first thing that comes to mind.1-3 Artificial intelligence, allergy/immunology and autoimmunity typically take precedence. But this AI—Appreciative Inquiry—arguably holds the greatest promise to revolutionize our work environment.
Appreciative Inquiry has been described as a framework, a process or an orientation based on the principles of positive psychology. Developed by David L. Cooperrider, PhD, and Suresh Srivastava, PhD, in 1987, AI was originally applied in the business world to leverage the strength of employees to engage them in positively impacting the organization. The crux of AI is a focus on identifying what works in, and what gives life to, an organization. By focusing on these positive determinants and expanding on those strengths, an organization can grow in a positive manner and render its weaknesses moot.
While AI was originally met with some skepticism, more than 40 years later, evidence exists that AI may indeed improve such outcomes as productivity, engagement, well-being and employee retention. More recently, AI has been applied to healthcare settings, although a recent systematic review did not demonstrate consistent improvement in outcomes in high-quality studies. Nonetheless, AI has enormous potential to improve our work environment and healthcare delivery as a whole.