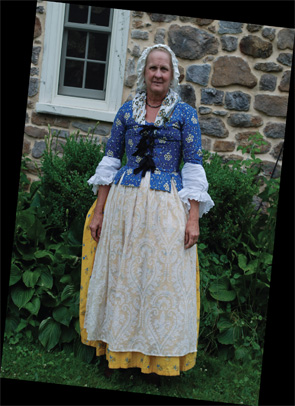 Donah Zack Crawford
If a physician from the 18th century were to walk into Donah Zack Crawford's home, he would be well equipped to practice medicine.
Crawford, director of clinical trials at the Arthritis Group in Philadelphia, collects medical instruments and literature, mostly from the 18th century. Her home study is filled with roughly 200 different objects, like a mid-18th century apothecary chest that contains many original bottles. She often brings smaller items with her when conducting presentations for school children, seniors and others at community libraries. They're also showcased at reenactments and in museums as far north as Quebec, Canada, and as far south as San Juan, Puerto Rico. Her goal is to educate people about the evolution of medicine and how healthcare was delivered more than 300 years ago.
Strong Stomach
Crawford's hobby began more than 25 years ago, after accompanying her then 8-year-old son to Revolutionary War reenactments.
"You have to do something if you're spending a lot of time out and about in camp," she says. "Cooking did not interest me. … I have rheumatoid arthritis, so holding a needle and sewing at camp was not [possible]. I was coordinating clinical trials at the University of Pennsylvania at the time, and one thing sort of led to another."
Her collection includes surgical tools, such as scalpels and a bone-handled crimper, which resembles pruning shears, that was used to amputate gangrenous fingers and toes, various sizes of mortars and pestles, and also dental tools. The only tools missing, Crawford says, are those related to obstetrics, which are very expensive.
Her husband, a part-time antique dealer, helps purchase some tools, and others are bought from antique stores, yard sales and even antique gun shows. She explains that people drawn to antique guns are also attracted to pointy or sharp objects, which are sometimes medical instruments.
Crawford says many of the instruments have not changed in centuries. For example, she points to dentistry, which she believes is the most evolved of the medical disciplines. (Listen to Ms. Crawford talk about the surgical instruments, bleeding and more.)
Except for their composition, she says there's very little difference between dental probes and other tools used centuries ago and those used by dentists today. She owns a set of dental tools from England and another from France.
"They invented the right tools about 400 years ago, and they still work," says Crawford. "I've taken my dental tools to my dentist. He thinks they're way cool."