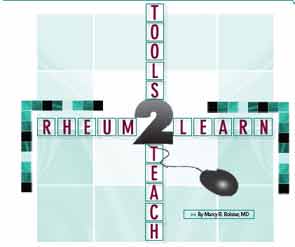 Contributing Authors
Helen Bateman, MD
Jessica Berman, MD
Elizabeth Brooks, MD
Marcy B. Bolster, MD (Subcommittee Chair, 2008–2010)
Amy Cannella, MD (Subcommittee Chair, 2010–present)
Alan Erickson, MD
Michelene Hearth-Holmes, MD
Santhanam Lakshminarayanan, MD
Deana Lazaro, MD
Nancy Liu, MD
Kevin McKown, MD
Leslie Staudt, MD
Peter Valen, MD
Joanne Valeriano-Marcet, MD
Is there room for internal medicine (IM) housestaff to learn more about rheumatology? The ACR and its Committee on Training and Workforce Issues (COTW) assessed that there should be ample room for a broader spectrum of rheumatology teaching to IM residents. With the additional perspective of increasing rheumatology workforce needs, it also seems conceivable that if IM resident rheumatology education could be enhanced, there may be a greater demonstrated interest in pursuing fellowship training and, thus, careers in rheumatology. Notably, given increased clinical and administrative demands on rheumatology faculty coupled with either the absence of a rheumatology elective or the shortened rheumatology rotation experiences for IM residents, it seems clear that the creation of an educational tool to enhance rheumatology learning would be addressing an unmet or partially met need.
The current profile of rheumatology education for IM residents consists of a broad array of educators, including rheumatology fellows and faculty who are part of a rheumatology fellowship training program, rheumatology faculty not affiliated with a subspecialty training program, private practice rheumatologists affiliated with community IM training programs, and, less commonly perhaps, internists who are the sole teachers of rheumatology in some residency training programs. With this spectrum of rheumatology educators, the provision of a curriculum as a teaching tool could provide both structure and depth for the IM learners.
Background Research and Program Development
In 2008, the COTW Subcommittee for Resident Education performed a needs assessment for rheumatology education of all U.S. IM program directors. Of 226 surveys distributed electronically, 86 were returned (38%). The survey sought to elicit program director opinions regarding the demonstrated need for rheumatology education, ideal teaching modalities, and current methods for providing rheumatology education; space was provided for respondents to write in other ideas. Of the surveys that were returned, 42% of programs had more than 50 residents and 83% were affiliated with a rheumatology division within the department of medicine. Even more programs (94%) had at least one board-certified rheumatologist on staff. When asked who was teaching the residents, answers were nearly equally split between rheumatologists in private practice (30%), academic rheumatologists (35%), and rheumatologists affiliated with a fellowship training program (30%). Only 3% responded that rheumatology was taught solely by internists.