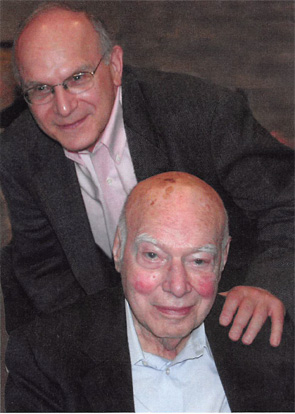 Dr. James Rosenbaum with his hand on the shoulder of his father, Dr. Edward Rosenbaum.
James Rosenbaum, MD, has medicine in the genes: His dad, two brothers, his wife and his daughters—both of them—are doctors.
Why medicine? Curiosity, mostly. Dr. Rosenbaum is still wide-eyed to learn, whether it's in his post as chair of the Division of Arthritis and Rheumatic Diseases, Oregon Health & Science University (OHSU), or as chief of ophthalmology at Legacy Devers Eye Institute, both in Portland, Ore.
He has a unique combination of talents: He's the only practicing rheumatologist in the world to head a department of ophthalmology. He developed an interest in ophthalmology some 35 years ago when, as a fellow trying to develop a rat model of reactive arthritis, a pathologist told him rats had developed uveitis.
His passion comes from his father, Edward Rosenbaum, MD—the first rheumatologist in Oregon and, later, the author of A Taste of My Own Medicine, a memoir that served as the basis for the screenplay of the 1991 Disney film, The Doctor. Dr. Rosenbaum's chair is named for his father, who built OHSU's rheumatology division.
Dr. Rosenbaum's passion for medicine is something he clearly passed on to his two daughters—Lisa, a cardiologist and noted author who has written for The New England Journal of Medicine, The New Yorker and The New York Times, and Jennifer, who is still choosing a specialty. Dr. Rosenbaum's wife, Sandra, is a cardiologist.
Dr. Rosenbaum recently talked to The Rheumatologist about his career:
The Conversation
The Rheumatologist: As a kid, did you think you wanted to be a rheumatologist?
Dr. Rosenbaum: Becoming a doctor was sort of the path of least resistance. My parents had four sons, and my dad would take us on rounds. And it was clear that everyone adored him. So he never said to us, 'Gee, you ought to be a doctor,' or 'This is a wonderful life.' What he showed was that he derived a tremendous amount of gratification from taking care of people. And so my older brother's a doctor, I'm a doctor, my younger brother's a doctor, and the black sheep became a lawyer.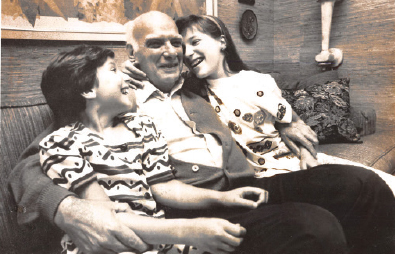 Dr. Edward Rosenbaum with his two granddaughters, Lisa (left) and Jennifer (right).
TR: You blazed your own trail in combining two specialties. Why have you continued your focus for so many years?
Dr. Rosenbaum: Science doesn't resolve questions; it finds answers that allow you a platform to ask additional questions. So the more that I discovered or that others discovered about the model that I stumbled on, the more unresolved issues were raised. And that still remains true today. Science is a lot like working on any kind of puzzle—a crossword puzzle, a Sudoku—but you don't just turn to the answer in tomorrow's paper, which makes it sometimes more frustrating, but all the more satisfying if you can gain a piece of the resolution.