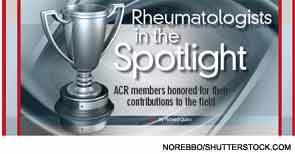 What better place to hand out awards than a city known for being 75 degrees and sunny?
ADVERTISEMENT
SCROLL TO CONTINUE
And so, at the 2013 ACR/ARHP Annual Meeting in San Diego this fall, the ACR and the ARHP honored a group of distinguished individuals who have made significant contributions to rheumatology research, education, and patient care. The Rheumatologist spoke with the winners about their individual contributions to advancing rheumatology. This month, we'll meet the ACR award winners, and in a future issue, we'll meet the ARHP winners.
ADVERTISEMENT
SCROLL TO CONTINUE

Dr. Lloyd
ACR Distinguished Service Award
Robert Lloyd, MD Retired in 2013 from private practice and his role as Clinical Associate Professor in Medicine, Rheumatology, Georgetown University, Washington, D.C.
Background: Thirty-eight years in private practice is a long time, but Dr. Lloyd never had the time to notice. Early on in his career, he became involved in advocacy issues for what was then called the American Rheumatism Association (ARA). He never looked back. After graduating from Georgetown University's medical school in 1968, Dr. Lloyd completed his specialty training at Georgetown, entered private practice, and began a career in advocacy for what has become the ACR. One of the first policy issues he recalls was the successful push to have rheumatology designated as a distinct subspecialty of internal medicine. Other battles included alternative payment arrangements and coding issues. In 1990, he received the Clinical Faculty Award from Georgetown, and five years later earned the Vicennial medal for 20 years of services. He chaired ACR's Legislative Affairs Committee from 1992 to 1995 and has been on innumerable other committees. An ACR Master, Dr. Lloyd was given the ACR's Paulding Phelps Award in 2002.
Q: What about advocacy appeals to you?
ADVERTISEMENT
SCROLL TO CONTINUE
Why fight these fights? A: I think when we began, the existing system of coding and payment was unfair to medical subspecialists. By chipping away at this inequity over the last 20 years, we have managed to level the playing field. This battle will continue, but it has always been one worth fighting. I didn't mind doing it … to tell the truth, I rather enjoyed most of it.
Q: What stands out most about your career?
A: The patients have afforded me the most gratification. I have patients who I have taken care of for over 30 years. You certainly can build a real relationship in that time: who they are, who their family is, what their problems are, what happens to their children, etc. Many of these patients have become good friends on a professional level.