Jonathan Coblyn, MD, was around 10 years old the first time his father took him fishing in April to Great South Bay, the largest shallow saltwater bay in New York. It was so cold that he remembers scraping frost off the lines that tied the family's 26-foot motorboat to the pier.
You Might Also Like
Explore This Issue
July 2016
Also By This Author
Dr. Coblyn, clinical chief of rheumatology at Brigham and Women's Hospital in Boston, grew up in Long Island and spent a great deal of time on that motorboat during his childhood years. He smiles every time he reminisces about those adventures of vacationing with his family and fishing with his father, mother and brother. Yet it wasn't until his late 50s before he returned to the sea, catching and then releasing fish. He doesn't much care for fancy fishing rods, tackle or gear, or even specialized activities like fly fishing. The simpler, the better, he says.
ADVERTISEMENT
SCROLL TO CONTINUE
Perhaps nothing relaxes and excites him more than sitting on his own fishing boat, admiring the scenery and embracing the sun's warmth while eagerly awaiting that first tug on his fishing line.
Horses to Whales
Dr. Coblyn graduated from The Johns Hopkins University School of Medicine in Baltimore in 1974. During the next two years, he pursued his internship and residency at Brigham and Women's Hospital in Boston and spent the following year finishing his senior medical residency at Stanford University Hospital in Palo Alto, Calif., becoming certified in internal medicine. His fellowship in rheumatology was completed between 1977 and 1979 at the former Robert Breck Brigham Hospital, now part of Brigham and Women's Hospital. He's been working at this facility ever since.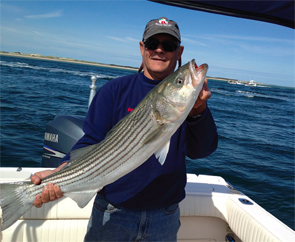 ADVERTISEMENT
SCROLL TO CONTINUE
Dr. Coblyn's family—his wife, Amy, their four children and several horses—lived in an 1820's restored farmhouse in Sherborn, just west of Boston. Ironically, Amy didn't really care for the ocean and firmly planted her feet on dry land.
Just as well. Between the kids, horses, farmhouse and his work, Dr. Coblyn had his hands full. But after his children grew up, his thoughts wandered off to the sea, lured by childhood memories of fishing with his father. Could he convince Amy to try fishing?
There was only one way to find out. He purchased a Grady-White 20-foot power boat and docked it in Barnstable Harbor on Cape Cod Bay. Well, the fish weren't the only ones hooked. Although the entire family enjoyed it, his daughter, Kimberly, was the most enthusiastic of the bunch. Dr. Coblyn occasionally brags about her fishing prowess (possibly genetic?) and treasures a recent photo of her catching a striped bass on a friend's fishing boat.