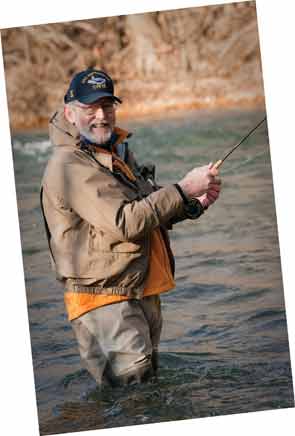 Dr. Brasington trout fishing in southern Missouri.
Photos courtesy of Matthew Taylor
My 24 years of fishing have made me a better rheumatologist, because fishing (especially fly fishing) is the ideal sport for a rheumatologist.
Before you conclude that I have been out in the sun too long, let me explain. Both fishing and practicing rheumatology are complicated processes, requiring inquiry, study, and contemplation. When I fish, I examine the weather, the depth and speed of the water, the contour of the stream bed, the time of year, and the predominant insects above and below the water. It's a bit like taking a history and physical to try to make a rheumatologic diagnosis. With this information, I plan my approach, recognizing that the "right" fly and presentation will not always work, for reasons which are unknown, and that it will likely be necessary to try a different approach. Treating rheumatoid arthritis (RA) with a disease-modifying antirheumatic drug (DMARD) is similar: we know which medications work, but we don't know in which patients the result will be successful, and often we must try something besides the medication that seemed like the right one to use first.
The sport is not called "catching fish" because most of the time we are not actually doing that; we are fishing, or engaged in the endeavor in which we aspire to catch fish. I think that is quite similar to practicing rheumatology, where we have relatively few golden moments in which we do something to make a patient profoundly better. Rather, it is an incremental process of understanding the patient's problems and trying one thing after another in an effort to improve their quality of life. We enjoy the process of trying to figure out what is wrong, and what to do to make it better, while getting to know the patient and their family and job.
It occurred to me one day while not catching fish that both fishing and practicing rheumatology require enormous patience. That is obvious, but like many realizations that seem obvious, embracing and taking it to heart has enriched my understanding that in treating our patients, we are really in it for the long haul, and it is much more satisfying if we can enjoy the process. Each session in the stream, or the exam room, entails a process that I have come to enjoy and treasure for its own sake, with the added joy of catching a nice fish, or finding the DMARD that finally works for someone's RA.