"Upon my arrival at then Barnes Hospital as an Allergy and Clinical Immunology Fellow, the program was short on rheumatology fellows, so I filled in," he says. "In those old days, immunologists were becoming directors of many of the rheumatology programs in the country, [because] it was discovered that immune phenomena mediated many types of rheumatic diseases. Many of us were, thus, appointed heads of rheumatology divisions."
You Might Also Like
Explore This Issue
February 2015
Also By This Author
He's stayed put ever since.
ADVERTISEMENT
SCROLL TO CONTINUE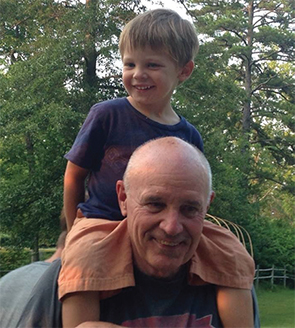 Dr. Atkinson with his grandson, Jack.
During his career, he has trained more than 70 predoctoral students and postdoctoral fellows from not only the U.S., but also England, Thailand, Germany, India and China. He says many have since accepted independent research positions and launched distinguished careers in academia, government, or the biotechnology or pharmaceutical industries. He takes significant pride in their accomplishments, which is the ultimate reward for any good teacher.
ADVERTISEMENT
SCROLL TO CONTINUE
However, Dr. Atkinson's own career is just as impressive. He started out as an immunologist/cell biologist and then evolved to biologic chemistry, molecular biology and molecular genetics to study how the complement system functions in health and human disease.
His medical, teaching and research honors are too numerous to list, but the Arthritis Foundation honored him in 2012 as a Research/Medical Hero. In 2009, he received the Thai-American Physicians Foundation Lifetime Achievement Award, and he received Master distinction from the ACR in 2008.
Regulatory Proteins
Dr. Atkinson's joy, his passion, is studying the structure, function and genetics of human and mouse complement receptors regulatory proteins. Over the past decade, researchers in his lab have focused on defining the functional consequences of rare variants in regulators in human diseases (atypical hemolytic uremic syndrome and age-related macular degeneration), along with characterizing virulence factors synthesized by poxviruses and flaviviruses that modulate the host's complement system.
ADVERTISEMENT
SCROLL TO CONTINUE
"Fellows in the laboratory discovered several novel proteins in the 1980s, and then they cloned them in the 1990s, but we had to wait until we had the power of human genetics to find out what diseases these proteins were actually involved in," Dr. Atkinson says. "Most of the [diseases] we and others had considered were wrong, [which] came as quite a surprise to us. We would have never looked. Now, we have identified common and rare genetic variants in diseases in which the proteins we worked on in the '80s and '90s are predisposing.
"Over the years, we have helped identify several new rare diseases—thanks to very bright graduate students and postdoctoral fellows—including a vasculopathy caused by the DNase TREX1 that mimics a systemic rheumatic disease," says Dr. Atkinson.