"Whenever he'd see me, he would point to it, and ask me to pick him up," says Dr. Shmerling. "He almost had to stand on my shoulders because he's so very small. He was thrilled every time he was able to reach it."
You Might Also Like
Explore This Issue
October 2015
Also By This Author
Although he recalls many experiences like this one, not all are warm and fuzzy. One time, he was reading a book to a 5-year-old girl about a misbehaving young boy who was constantly getting into trouble of one kind or another. He didn't listen to his parents, because he was having too much fun. Toward the end of the book, he accidentally knocks over a vase in his house, which then shatters into pieces. The boy's mother is shown hovering over him. "Before I turned the page, I asked the little girl what she [thought would] happen, what the mother will do," he says. "[The little girl] said, 'She beats him.' That was her answer. It just broke my heart. But the story ends with the mother giving the boy a big hug."
ADVERTISEMENT
SCROLL TO CONTINUE
Hopeful Encounters
The facility tries to develop a sense of normalcy for its residents. They celebrate holidays, such as Thanksgiving, and enjoy summer barbecues with residents—both past and present. On Halloween, Dr. Shmerling and other volunteers also take the children trick-or-treating outside the facility, in the surrounding neighborhood.
He considers the children and volunteers a part of his extended family. Some return years later for facility activities or holidays, but may not remember him, he says, and he sometimes questions what difference he has made in their lives. But Dr. Shmerling is quickly reminded of his contribution every time he walks into the facility and a young child calls him "Papi" (the Spanish word for father) or runs across the room to give him a giant hug. Meanwhile, he would like to see more men volunteering at the facility to serve as role models. He says it's important for children to realize that most men will never hurt or hit them, that they can play, laugh and have fun with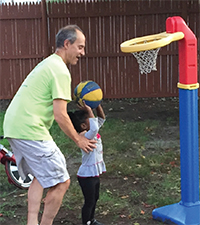 them without being afraid or worrying about their safety.
ADVERTISEMENT
SCROLL TO CONTINUE
Last year, when Second Step created a promotional video, Dr. Shmerling was interviewed and asked to describe what pops into his mind when he thinks about the facility. "I said it's a very hopeful place," he says. "Some of the moms who come here would probably think there's nothing better ahead for them, but I see many examples where that's not the case. There's a lot of resilience in the kids, a lot of resilience in the parents. While it takes a lot of work and help from others, they certainly have better things to look forward to."