On any Thursday from 7 p.m. to 8 p.m., you can find Robert H. Shmerling, MD, playing tag, basketball or even roughhousing with a group of children at Second Step, a transitional living program that offers victims of domestic violence in the Boston area a safe place to live and opportunities to go back to school or find a job.
You Might Also Like
Explore This Issue
October 2015
Also By This Author
Dr. Shmerling, clinical chief of the division of rheumatology and program director of the rheumatology fellowship at Beth Israel Deaconess Medical Center in Boston, has rarely missed a play date since he began volunteering at the facility nearly eight years ago. As one of the few male role models at the facility, he says the weekly experience positively affects children of all ages and has made him more sensitive to his patients' overall problems.
ADVERTISEMENT
SCROLL TO CONTINUE
Feeling Safe
Dr. Shmerling graduated from Harvard Medical School in 1983. Three years later, he completed his residency at Beth Israel Hospital, now known as Beth Israel Deaconess Medical Center. He continued on with his medical studies by pursuing two fellowships—one in rheumatology at Brigham and Women's Hospital and another in primary care fellowship at Beth Israel Hospital between 1986 and 1989. He became familiar with Second Step when Lisa, his wife of 31 years, and Alison, his now 27-year-old daughter, began volunteering at the facility more than a decade ago. Although Lisa has since moved on to other volunteer opportunities, and Alison resigned her volunteer position after moving away to college, Dr. Shmerling continues to volunteer at Second Step.
Dr. Shmerling vividly remembers his first day. "I didn't know any of the kids or staff or volunteers besides my wife," he says, adding that there's no task more daunting than finding ways to entertain a group of energetic children. "It was a little intimidating, because you have to earn the kids' trust to really be accepted and spend quality time with them."
ADVERTISEMENT
SCROLL TO CONTINUE
On Thursday nights, Dr. Shmerling and three or so other volunteers play with up to eight children while their mothers attend facility programs, counseling sessions, yoga or Zumba classes. It's hard to say who has more fun—the kids or Dr. Shmerling. He enjoys playing tag, soccer or lacrosse with the kids, shooting hoops and pushing them on swings or bicycles with training wheels. Sometimes, it's the smallest of gestures that produce the biggest smiles. He points to one small boy who barely spoke a word of English who enjoyed touching the large blue globe that hangs from the ceiling in the facility's playroom.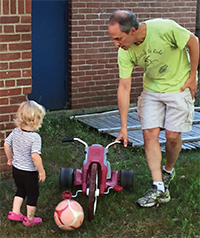 "Whenever he'd see me, he would point to it, and ask me to pick him up," says Dr. Shmerling. "He almost had to stand on my shoulders because he's so very small. He was thrilled every time he was able to reach it."
Although he recalls many experiences like this one, not all are warm and fuzzy. One time, he was reading a book to a 5-year-old girl about a misbehaving young boy who was constantly getting into trouble of one kind or another. He didn't listen to his parents, because he was having too much fun. Toward the end of the book, he accidentally knocks over a vase in his house, which then shatters into pieces. The boy's mother is shown hovering over him. "Before I turned the page, I asked the little girl what she [thought would] happen, what the mother will do," he says. "[The little girl] said, 'She beats him.' That was her answer. It just broke my heart. But the story ends with the mother giving the boy a big hug."
ADVERTISEMENT
SCROLL TO CONTINUE
Hopeful Encounters
The facility tries to develop a sense of normalcy for its residents. They celebrate holidays, such as Thanksgiving, and enjoy summer barbecues with residents—both past and present. On Halloween, Dr. Shmerling and other volunteers also take the children trick-or-treating outside the facility, in the surrounding neighborhood.
He considers the children and volunteers a part of his extended family. Some return years later for facility activities or holidays, but may not remember him, he says, and he sometimes questions what difference he has made in their lives. But Dr. Shmerling is quickly reminded of his contribution every time he walks into the facility and a young child calls him "Papi" (the Spanish word for father) or runs across the room to give him a giant hug. Meanwhile, he would like to see more men volunteering at the facility to serve as role models. He says it's important for children to realize that most men will never hurt or hit them, that they can play, laugh and have fun with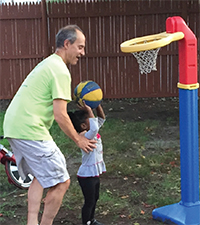 them without being afraid or worrying about their safety.
Last year, when Second Step created a promotional video, Dr. Shmerling was interviewed and asked to describe what pops into his mind when he thinks about the facility. "I said it's a very hopeful place," he says. "Some of the moms who come here would probably think there's nothing better ahead for them, but I see many examples where that's not the case. There's a lot of resilience in the kids, a lot of resilience in the parents. While it takes a lot of work and help from others, they certainly have better things to look forward to."
Along with other volunteers, Dr. Shmerling received an award during Second Step's recent annual fund-raiser for his long-standing contributions to the organization. Dr. Shmerling can't envision a more fulfilling or rewarding volunteer opportunity and has no plans of quitting. He says his wife often pokes fun at him for his self-admitted weekly obsession that has also drawn him closer to his patients.
"Sometimes patients will say, 'I'm under a lot of stress right now,' and won't elaborate," he says. "In the past, I would just let that ride or say something general like, 'That's too bad.' Now, I'm more in tune with them, more sensitive, more prone to question them and have a better appreciation for the social stresses they experience."
---
Carol Patton is a freelance writer based in Las Vegas, Nev.