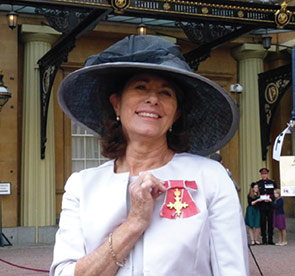 Sue Oliver, upon receiving the OBE.
Rheumatology Nurse Consultant Awarded the OBE
Sue Oliver, MS, is an independent nurse consultant in rheuma­tology in Devon, England. She is also an Officer of the Most Excellent Order of the British Empire. The OBE, as it's more colloquially called, "recognises distinguished service to the arts and sciences, public services outside the Civil Service and work with charitable and welfare organisations of all kinds," according to the royal website.
You Might Also Like
Explore This Issue
March 2015
Also By This Author
Her career has been distinguished and varied. She started out as a secretary but, after a few years, decided she wanted to become a nurse. Her father didn't think highly of the idea and said he gave her three months before she'd drop out. "Well, that's it, isn't it?" she says, laughing.
ADVERTISEMENT
SCROLL TO CONTINUE
She worked in intensive care, in cardiology, as a surgical nurse and then in renal dialysis. Dialysis was the beginning of her work with patients who had long-term conditions. "As a nurse, you had to get to know your patients. Help them grow and learn how to self-manage," she says.
Her passion has been rheumatology since the mid-1990s when she set up the rheumatology specialist nursing service at North Devon District Hospital.
ADVERTISEMENT
SCROLL TO CONTINUE
She has worked as an independent nurse consultant since 2003 and has been increasingly employed to provide consultancy work in strategic roles that involve healthcare delivery, service redesign and the development of guidelines, standards and competencies. Ms. Oliver is currently the chair of EULAR's Standing Committee of Health Professionals in Rheumatology.
"I want to make sure rheumatology is at policy-making tables. If you're not at the table, your voice will not be heard. I recognized early on that you have to be involved in the politics if you want to make changes."
She believes the OBE gives her more power to make some changes. "It's a recognition that rheumatology is important and that rheumatology nursing has value. "It's time for a new focus on rheumatology, as diabetes, respiratory and cardiac have gotten for years."
ADVERTISEMENT
SCROLL TO CONTINUE
Marilyn Tavenner Resigns as CMS Administrator

Marilyn Tavenner
Marilyn Tavenner, BSN, MHA, announced her resignation as administrator for the Centers for Medicare & Medicaid Services (CMS) in January 2015, effective at the end of February 2015.
The Senate confirmed Ms. Tavenner (97 to 1) in May 2013, making her the first CMS administrator to be confirmed since 2006. [Her predecessor had been a recess appointment.] She had been acting administrator since 2011 and principal deputy administrator prior to that. She began her career as a staff nurse in 1972, rising to president of the Hospital Corporation of America's Outpatient Services Group, before she became Secretary of Health and Human Resources for the state of Virginia.