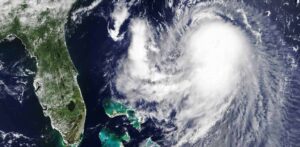 You Might Also Like
Explore This Issue
July 2022
Also By This Author
Hurricane Ida intensified in the last two weeks of August 2021, battering the Cayman Islands and Cuba before hitting the Louisiana coast as a Category 4 storm just before Labor Day weekend.1
ADVERTISEMENT
SCROLL TO CONTINUE
At landfall, Ida blasted southern Louisiana with maximum sustained winds of 150 knots, then turned in a north-northwestern direction to hit the New Orleans suburb of LaPlace before wreaking havoc through other areas of the state. Residents and local businesses, including rheumatology practices, dealt with widespread power outages, property damage and flooding in the New Orleans metropolitan area.1
Hurricane Ida produced 24 tornadoes and storm surges in Louisiana that topped protective levees in several places. The storm directly caused 55 deaths in the Gulf Coast and Eastern U.S. The National Oceanic and Atmospheric Administration's National Office of Environmental Information estimates the storm caused $76.5 billion in property and business damages across the country.2
ADVERTISEMENT
SCROLL TO CONTINUE
Perishable Drug Supplies Lost
"I've been through disasters before, including Hurricane Katrina, where I lost both of my offices," says Madelaine A. Feldman, MD, who co-owns The Rheumatology Group, a two-physician practice in New Orleans. "We were only out of the office for two weeks during Ida, but the water stayed in the area for a long time. About 85% of New Orleans was underwater."
Dr. Feldman spent four days without power at home, then left for Houston because the practice's office building had no power for about 10 days, she recalls. Her clinic stores refrigerated, perishable biologic medications, including some that are infused on site. She estimates her practice lost $450,000 worth of infusible medications due to the extended power outage—and the loss could have been worse. The practice previously kept an even larger perishable drug supply in storage.
Planning tip: In the future, Dr. Feldman plans to order no more than a two-week inventory of perishable drugs, especially during hurricane season because the practice has no way to store the drugs during an extended power outage.
ADVERTISEMENT
SCROLL TO CONTINUE
"These products will go bad if the temperature goes above 85ºF and they are not refrigerated. Also, make sure your business insurance policy has adequate coverage for perishables," she says.
Dr. Feldman called her sales representatives at drug manufacturers for help to replace some of the infusible products her clinic lost, a process that took months. "Be prepared that transportation and supply chains may be interrupted."
Long Lines at Pharmacies
In nearby Metairie, La., the small clinic co-owned by rheumatologist Magdalena Budziakowska, MD, stayed closed for two weeks after Ida.
"The week before, some of our patients told us they were getting nervous because they have lived through many hurricanes. Some people said they were more comfortable staying in their homes, but our older patients said they felt more comfortable going elsewhere, especially those who are on oxygen," says Dr. Budziakowska.
She and her staff kept in contact through texts and updated the clinic's voicemail message to let patients know the office was closed. Dr. Budziakowska accessed the office's cloud-based electronic medical record (EMR) on her laptop from home.
"If anyone had a missed appointment or had a chronic rheumatic disease, I went ahead and refilled their medications," she says. New Orleans-area pharmacies reopened as quickly as possible, but many had long lines to fill prescriptions, according to her patients. "Most were able to get short supplies of their medicine. Infusion appointments were rescheduled."
Dr. Budziakowska worries that a future, stronger hurricane could cause more extended closures and that some of her patients are at high risk of flare if they run out of medications, such as glucocorticoids.
"Prednisone is like a fire extinguisher for their inflammation. Patients need to know how important their medications are, why they need to continue their therapy and what to expect if they stop," she says.
Planning tip: "In the summertime, we will be more proactive and have some patients fill an extra dose of medications for emergencies," says Dr. Budziakowska.
Widespread, Costly Damage
Many New Orleans-area doctors, nurses and office staff evacuated to stay with relatives or friends outside the storm's path, including William E. Davis, MD, chair of rheuma­tology at Ochsner Health. He, his wife and their two dogs fled New Orleans to stay at his sister's home 180 miles away from the city.
"Everyone at our clinic dispersed to wait and see what would happen. We all moved to different locations and worked remotely. I used my sister's internet connection. I had my laptop, so I was able to get on our health system's VPN [virtual private network] and Epic [electronic medical record] to call my patients to see what they needed, such as medication refills or going over their labs, but we did not do any charge-generating work," says Dr. Davis, who also leads Ochsner's rheumatology fellowship training program.
Ochsner Health is large, nonprofit health system that employs 34,000 people, and includes 40 hospitals and 300 urgent care centers across several states. The organization continually updates its disaster preparation and response plans, including a "code gray" plan for hurricanes, so employees have guidelines on what to do and how to stay informed during closures, he says. After Ida, its rheuma­tology clinic was closed for a week.
"Our patients are comfortable managing some care remotely. We had some patients who had difficulty getting through to us," he says. "Thankfully, most of New Orleans had power restored by the end of the following week after Labor Day. We worked through it."
Drug infusions were delayed at Ochsner's clinics for a week and rescheduled appointments were backlogged because the infusion centers were already understaffed due to nationwide nursing shortages, he says. Some local pharmacies were closed for days, so he called around to move prescriptions to stores that were open for patients who needed refills.
Planning tip: Be prepared to move prescriptions to different pharmacies or call in new prescriptions to pharmacies in areas where patients may have evacuated to.
Cloud-Based or Server-Based EMR?
Planning tip: Consider moving from a server-based EMR to a cloud-based system.
Dr. Feldman's practice has a server-based EMR. When the electricity was out, she could not access patient records stored on a physical server in the office. She says her practice is switching to a cloud-based EMR, which stores information through a cloud service provider (CSP) for a fee. Cloud-based EMRs are accessible remotely, so doctors may log on from home or anywhere they are evacuated during a natural disaster to reach patient information.
"If our EMR had been cloud based, I could have taken my laptop with me to Texas and contacted patients to review their situations," says Dr. Feldman.
Data security and compliance with the Health Insurance Portability and Accountability Act (HIPAA) should not be barriers to practices adopting cloud-based EMR systems, says Bob Teague, MD, a board-certified internist and chief medical officer of Green Room Technologies, a healthcare technology consulting firm in Austin, Texas. CSPs must comply with federal regulations outlined in HIPAA to keep patients' electronic protected health information safe and secure.
"Your cloud service provider should offer good security, and HIPAA compliance for any cloud-based [EMR] should not be an issue," says Dr. Teague, who practiced medicine in Houston during Hurricane Katrina in 2005. Remote access to medical information after a hurricane is more efficient with cloud-based EMRs because practices can store and back up data on the cloud, he says.
"If you practice in a rural area where there is no high-speed internet, you could also use the cloud to back up your EMR data on a device you can carry, like a tablet or laptop. The value of a cloud-based system is that data are always backed up somewhere else," says Dr. Teague.
The U.S. Department of Health and Human Services has issued guidance on HIPAA compliance for both cloud service providers and medical practices using them for data storage.3 Cloud service providers must enter into a HIPAA-compliant business associate agreement contract with medical practices to manage this data safely and securely. The CSP becomes the practice's business associate under this law, even if the company only stores encrypted data and has no encryption key to unlock it. Both parties should conduct risk analyses to spot any potential threats to data security and address them, according to the guidance.
Telemedicine Filled Gaps
Once Ochsner's rheumatology clinic opened its doors again, patients came in for appointments, but telemedicine appointments increased until the end of September, then dropped back to pre-storm levels, says Dr. Davis. Patients who evacuated to Texas were not eligible for telemedicine appointments because of interstate licensing restrictions.
Although his large network was able to manage business disruptions after Hurricane Ida, small rheumatology practices might lose significant income during extended weather-related power outages and patient evacuations, he says.
Telemedicine visits are reimbursed by payers at 80 cents on the dollar, says Dr. Budziakowska.
"Guidelines and rules for billing and reimbursements for televisits were not as stringent during COVID-19, and it would be nice to apply those same standards to natural disasters. If one of my patients is in Mississippi and can't travel to my office, it would be nice if Medicare, Medicaid or private payers would consider that approach."
Planning tip: Remain current on rules and regulations related to telemedicine so you know your options during a natural disaster.
Dr. Budziakowska and Dr. Feldman both say they will carefully examine and update their insurance policies, including business interruption, extra expense and property damage coverage, to prepare for future storms and potential income loss.4 According to the Federal Emergency Management Administration, approximately 25% of businesses don't reopen after disasters.5
Planning tip: Both doctors recommend that owners of small, independent practices take a close look at their insurance policies and make adjustments where needed.
"We could have insured our practice for a larger amount or increased coverage for loss of use of the office. We didn't know that. If we had been out of the office longer than two weeks, I don't know if we could have made it," says Dr. Budziakowska. "A natural disaster that closes your offices for two weeks could close your practice. There are still people in LaPlace who are living in trailers. What if we were out of the office for over a month?"
Editor's note: Also see a letter to the editor received in response to this article.