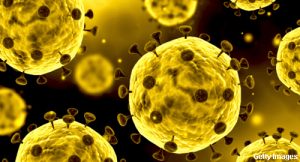 The COVID-19 pandemic has moved the field of rheumatology to the forefront of medicine at a California university hospital, where rheumatologists play a key consulting role in the use of biologics for treatment of some patients infected by SARS-CoV-2.
"We are experts in using biologics," says Karina Torralba, MD, rheumatology chief and fellowship program director at Loma Linda University Medical Center, Calif. "There's this widespread recognition that biologics are, by and large, the purview of rheumatologists."
ADVERTISEMENT
SCROLL TO CONTINUE
The university's rheumatology division operates an infusion clinic and, often, receives patient referrals from dermatologists and gastroenterologists. In the early weeks of the pandemic, Dr. Torralba's department helped develop a treatment algorithm for COVID-19 patients admitted to Loma Linda University Medical Center and seen for follow-up in its clinics.
"The role of rheumatologists is to counterattack the hyperactive immune response that can happen in [COVID-19] patients. Some patients develop a cytokine storm," says Dr. Torralba.
ADVERTISEMENT
SCROLL TO CONTINUE
Rheumatologists are typically more familiar with macrophage activation syndrome, often occurring in pediatric rheumatic diseases, than their colleagues in other medical fields, notes Dr. Torralba. Also called cytokine storm, this hyperactive immune response causes the body to release an overabundance of cytokines into the blood.
Background & Education
The presence of cytokine storm in some patients severely ill with COVID-19 led to a collaboration between the departments of infectious disease, critical care medicine, hospitalist medicine and rheumatology at Loma University Medical Center, says Dr. Torralba. The collaboration includes an agreement to consult staff rheumatologists before deciding whether to treat a patient who has the virus with a biologic, such as tocilizumab, an immunosuppressant drug used to treat rheumatoid arthritis, she says.
"On the inpatient side, [the agreement] actually changed our practice significantly, because rheumatology is in charge of making final decisions [about] which COVID-19 patients get biologics," says Dr. Torralba.
ADVERTISEMENT
SCROLL TO CONTINUE
Additionally, her department implemented cytokine storm education efforts for hospitalist and critical care physicians, and for fellows and medical residents who—before the virus outbreak—may have had little or no experience with the condition.
"A lot of people confuse the lab parameters of cytokine storm with the cytokine release that can happen with sepsis," says Dr. Torralba. There are significant lab differences between the two responses that make a difference in whether to treat a patient with biologics, she notes.
The rheumatology division has taken on the task of identifying and monitoring possible cytokine storm responses in COVID-19 patients at Loma Linda Health medical facilities. The aim of biologic treatment is to prevent a "full-blown cytokine storm," which often accompanies multi-organ failure and frequently leads to intubation, Dr. Torralba says.
"We're doing a current review of the data, but the sense we are getting is that we've been able to prevent some major critical care disasters," she says.
The Role of Fellows
Rheumatology fellows have been involved in many aspects of the effort to treat COVID-19 patients, including monitoring patient lab reports and, along with Dr. Torralba, advising primary medical teams about biologic drug recommendations.
Fellows conduct consultations via telemedicine, so they are not working at the patient bedside. "The fellows have become quite adept at identifying when a patient has cytokine storm [and] actually does need the biologic," says Dr. Torralba. "With the attending's supervision, [the fellows are] in charge of coordinating with the pharmacy how to get the biologic the same day—within hours of us making a recommendation."
Some hospitalized patients have improved enough to return home. "The fellows and I are now seeing [discharged] patients in our rheumatology clinics as COVID-19 cytokine storm follow-up patients," concludes Dr. Torralba.
---
Catherine Kolonko is a medical writer based in Oregon.