As a girl growing up in rural Montana, Larissa Bates remembers terrible pain in the joints of her feet. Reeling from this daily pain, and lacking the energy of a typical 11-year-old, she went to a general physician because then—as now—no rheumatologist practiced nearby. But the doctor "just kept treating my pain symptoms," Bates recalls, "never knowing that I actually had an underlying autoimmune disease."
You Might Also Like
Explore This Issue
May 2007
Also By This Author
That changed when Bates was 24. "I woke up one day—it was January of '98—and I just felt this terrible, all-over pain." She went to a rheumatologist in Missoula, Mont., who finally diagnosed her with RA. "It was a relief to know that, OK, there is something wrong with me, like those 15 years living with the disease had been validated."
ADVERTISEMENT
SCROLL TO CONTINUE
On March 12 and 13, Bates joined 60 other patient advocates, rheumatologists, and rheumatology health professionals in Washington, D.C., for the ACR's Advocates for Arthritis Day. The advocates' top priority: to urge legislators to support the Arthritis Prevention, Control, and Cure Act of 2007 and three other legislative issues that affect the rheumatology field. (See "Make Our Voice Heard," for more information.)
ADVERTISEMENT
SCROLL TO CONTINUE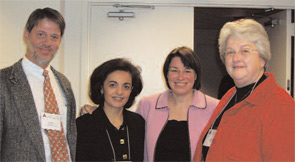 From left to right: Government Affairs Committee member Gary Bryant, MD; ACR Vice President Sherine Gabriel, MD; Sen. Amy Klobuchar (D-Minn.); and patient advocate Jan Henderson.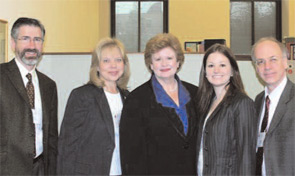 From left to right: Government Affairs Committee member Tim Laing, MD; ARHP President Karen Kerr, MSN, NP, CPNP, APRN-BC; Sen. Debbie Stabenow (D-Mich.); patient advocate Amanda Eubanks; and ACR president-elect David Fox, MD.
Strong Support from Rheumatology Community
"The event was very well received," says Aiken Hackett, specialist of government affairs at the ACR and head organizer of the conference. In the weeks since the event, she says, "members of Congress have contacted us for more information—and that means they're listening."
The Arthritis Prevention, Control, and Cure Act was first introduced in the 108th congress—and again in the 109th—by U.S. Senators Kit Bond, R-Mo., and Edward Kennedy, D-Mass. In both years, however, the bill never made it out of subcommittee deliberations.
ADVERTISEMENT
SCROLL TO CONTINUE
Last time, the bill had 220 co-sponsors in the House and 49 in the Senate. "When we tell them that now, that really gets their attention," says ARHP member Ann Kunkel, a pediatric rheumatology education coordinator at the University of Kansas Medical Center in Kansas City. "It says: This is a bipartisan bill. And this year I'm amazed." At press time, the bill had 121 co-sponsors in the House and 28 in the Senate.