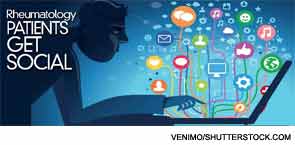 Generally, patients of rheumatologists are a sophisticated group. Many times, there is a delay between the start of symptoms and finally getting a diagnosis, they are often proactive in educating themselves about their illness. Increasingly, they are turning to social media (SM) to connect with other patients, share tips, and get information.
You Might Also Like
Explore This Issue
October 2013
Also By This Author
"Patients look to social media for support, understanding, compassion, and to know they are not facing their disease alone," says Penny Henthorn, a patient from Beloit, Wis., with rheumatoid arthritis and creator of the Rheumatoid Arthritis Forum on Facebook. "The knowledge I gain on these kinds of sites helps me better cope with my disease and not be afraid of it."
ADVERTISEMENT
SCROLL TO CONTINUE
Knowledge Gained
This can be especially important for the newly diagnosed individual who may not receive—or may not retain—all the answers they need from health professionals. SM allows less structured interactions, giving patients an opportunity to validate, or clarify, what they heard in the stress-filled minutes after their diagnosis.
"The knowledge new patients gain from more experienced patients during the early stages of their disease cannot be overestimated," says Naomi Creek, president of the Young Women's Arthritis Support Group in Australia. "It is a very scary time, and having a group of 'go-to' people in the know can be very comforting. Even for those who have lived with their condition for a long time, there are always ups and downs, new symptoms, and life challenges that can be made easier just by talking with others who understand."
ADVERTISEMENT
SCROLL TO CONTINUE
These are also good ways for the patient to get reinforcement of what they are being told by their physicians from someone who has already been there and done that.
"Social media helps bridge some of these gaps through the combined knowledge and experience of many people," says Kelly Young, an RA patient, author of the Rheumatoid Arthritis Warrior website (www.rawarrior.com) and founder of the Rheumatoid Patient Foundation.
Access to Experts and Others
Social media gives patients information that they may not have had access to otherwise. Many of the discussions include a wide range of disciplines.
ADVERTISEMENT
SCROLL TO CONTINUE
"Through social media, you are exposed to many great people," says Young. "Some are patients, but families, physicians, and researchers also come together and communicate successfully with each other. I know of no other place where that variety of expertise could be attained."
Social Interactions Key Draw
As the name suggests, social interactions are another important reason that patients head to these sites.