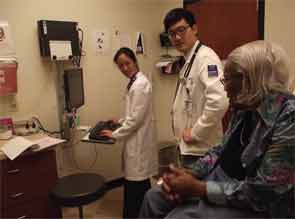 Karen Law, MD (left), treats a patient with one of her medical students.
Foundation-funded study examines curriculum aimed at teaching clinical decision-making skills
"It's not important to know what you have taught. It's more important to know what was learned." For Karen Law, MD, that understanding is helping shape her path as a medical education scholar. "Every time I sit down and think about how I'm designing these cases and how I'm teaching the medical students, I always come back to that," she says. With the help of a grant from the Rheumatology Research Foundation, she is using that philosophy to develop a curriculum she hopes will shape the minds of future doctors and rheumatologists across the country and help them provide the best treatments for their patients.
Currently, Dr. Law is an assistant professor and practicing rheumatologist at Emory University. She says education became very important to her while she was teaching medical students during her residency. "I think that is the ideal impressionable time where you can really make a difference in the way someone approaches studying and in the way someone approaches taking care of patients."

Russell Dolan, Emory medical student
Shortly after joining the faculty at Emory, Dr. Law was asked to serve as the associate director for the university's internal medicine clerkship. Her responsibilities include organizing clinical experiences and didactics in internal medicine for the groups of medical students who rotate through the department. Each group of students spends only eight weeks in the internal medicine department, which covers a wide range of areas, including rheumatology, cardiology and infectious diseases.
As Dr. Law worked on developing the clerkship, she became concerned that eight weeks wasn't enough time to give students appropriate exposure to the specialty. "I started thinking about ways that we could make their learning more efficient and ways that we could really augment their learning so that they could apply things better on the wards." She started talking to students about their experiences and collaborating with another clerkship director. "We realized that we needed a different way of teaching the students." Dr. Law decided to introduce a new curriculum, known as decision-based learning, into the clerkship.
The curriculum is designed to teach the medical students decision-making and critical-thinking skills when diagnosing and treating patients. In decision-based learning classes, students are divided into small groups and given preliminary information on a fictional patient. The students must then determine what general disease or illness the patient may have, and order tests and exams, one by one, that will confirm whether the patient has that disease or not. Dr. Law says the process of ordering tests is very important to the curriculum because medical students don't get much firsthand experience in the process while working on the wards, where other doctors usually see patients before the medical student. Often, the doctors order a range of tests, but the student is never walked through the thought process that went into making those decisions. "At the medical student level, they have not yet internalized those patterns of how to order things. So if no one is forcing them to really justify each of their decisions, then that foundation of understanding why we order things the way we order them is never established."
Dr. Law gives the students another decision-making challenge, as well. They are given prices for the tests they would like to order, with the ultimate goal of formulating as specific a diagnosis as possible while also being as economical as possible. Afterward, the professor talks to the students about how to approach similar cases. "It's a perfect teachable moment because the students have struggled during the case with something that's unknown, with something for which they don't know what the next steps are," explains Dr. Law. "Then immediately after that, we follow with information on the most efficient way to answer that question."
Dr. Law introduced the decision-based learning curriculum at Emory with just a few pilot classes early on. She was excited about the curriculum and wanted to study it in order to show if it was really helping students learn.
"If we want to be scholarly about this and provide the platform for this type of learning to be shared with other institutions, we need to have data to back that up," she says.
As a result, Dr. Law decided to apply for the Rheumatology Research Foundation's Clinician Scholar Educator award. The award provides funding for up to three years to educators who are dedicated to a high-quality clinical education experience for future rheumatology professionals. So far, Dr. Law has received funding through the award for one year, but she says it has already made an enormous difference in her study. Because of the Foundation's support, she says she has been able to dedicate the time required to get the study off the ground.
"The space the Foundation's award has given me to close my office door, focus on this, really follow ideas through and go for medical education training has transformed this project, as well as my career and the way I approach teaching and educational development," she says.
The funding also enabled Dr. Law to attend professional development programs hosted by the Harvard Macy Institute, which provides educators in healthcare the opportunity to advance their career skills. She says attending those programs helped her to elevate the study: "It's really allowed me to take this to the next level in terms of understanding what the next steps are to ensure this is a good educational experience, to make sure this is something that can be shared and used by other people outside of Emory and to make sure that we're not just teaching, but people are actually learning from what we're doing."
So far, Dr. Law has built a small library of cases and conducted a few pilot decision-based learning classes. A handful of students have gone through the curriculum and many of them say the classes were a wonderful educational experience.

J.P. Gorham, Emory medical student
J.P. Gorham, a medical student at Emory, says he appreciated that the classes highlighted the importance of being thorough and open minded about a potential diagnosis. "I think the decision-based learning activity gives everyone access to excellent clinically focused teaching outside of the clinic," he explains. "So it's a classroom activity, but really it feels akin to my best clinical experience."
Russell Dolan, another medical student at Emory, says he valued the lessons learned about being economical with tests and exams when trying to diagnose a patient. "It makes you think about whether you actually need a test that costs $5,000. If you can make the diagnosis with a different, more affordable test, you can save a lot of costs," he says.
Dolan also says the decision-based learning classes were an effective way to learn. "It really stimulated your mind to work through the case as opposed to just passively listening to a lecture."
Gorham agrees, explaining, "If you force students to engage with each other and also engage with other concepts actively during organized educational time, I think you're going to have a much higher yield on that education time. That is something that, as a busy med student, I really value."
Dr. Law hopes to implement and start studying the curriculum by September. If all goes well, she says she would love to build more cases, including a series focused on rheumatology. "Students don't get a lot of rheumatology cases with patients on the wards. So it's a nice way to highlight some of the things that we do and help the students learn about that and prepare them for their exams."
Dr. Law hopes to share the curriculum and cases with other institutions to encourage future doctors to learn about rheumatology and help more medical students better develop their decision-making and critical-thinking skills. "The hope is that they will be more focused in working up a patient, which would result in a more efficient hospital stay, decreased cost of testing and much more efficient weighing of the evidence so they can develop the best treatment plan possible for their patients."
Dr. Law says she is extremely grateful to the Rheumatology Research Foundation for providing the support and funding that will allow her to see this project through. "I think it really is an impressive statement for the Foundation to invest in medical education where we intuitively know that the work we do has these downstream effects that are not as clear and certainly aren't as linear, but the long-term investment may be more broadly reaching and will have a positive effect in many unquantifiable ways."