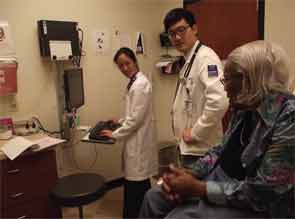 Karen Law, MD (left), treats a patient with one of her medical students.
Foundation-funded study examines curriculum aimed at teaching clinical decision-making skills
"It's not important to know what you have taught. It's more important to know what was learned." For Karen Law, MD, that understanding is helping shape her path as a medical education scholar. "Every time I sit down and think about how I'm designing these cases and how I'm teaching the medical students, I always come back to that," she says. With the help of a grant from the Rheumatology Research Foundation, she is using that philosophy to develop a curriculum she hopes will shape the minds of future doctors and rheumatologists across the country and help them provide the best treatments for their patients.
Currently, Dr. Law is an assistant professor and practicing rheumatologist at Emory University. She says education became very important to her while she was teaching medical students during her residency. "I think that is the ideal impressionable time where you can really make a difference in the way someone approaches studying and in the way someone approaches taking care of patients."

Russell Dolan, Emory medical student
Shortly after joining the faculty at Emory, Dr. Law was asked to serve as the associate director for the university's internal medicine clerkship. Her responsibilities include organizing clinical experiences and didactics in internal medicine for the groups of medical students who rotate through the department. Each group of students spends only eight weeks in the internal medicine department, which covers a wide range of areas, including rheumatology, cardiology and infectious diseases.
As Dr. Law worked on developing the clerkship, she became concerned that eight weeks wasn't enough time to give students appropriate exposure to the specialty. "I started thinking about ways that we could make their learning more efficient and ways that we could really augment their learning so that they could apply things better on the wards." She started talking to students about their experiences and collaborating with another clerkship director. "We realized that we needed a different way of teaching the students." Dr. Law decided to introduce a new curriculum, known as decision-based learning, into the clerkship.
The curriculum is designed to teach the medical students decision-making and critical-thinking skills when diagnosing and treating patients. In decision-based learning classes, students are divided into small groups and given preliminary information on a fictional patient. The students must then determine what general disease or illness the patient may have, and order tests and exams, one by one, that will confirm whether the patient has that disease or not. Dr. Law says the process of ordering tests is very important to the curriculum because medical students don't get much firsthand experience in the process while working on the wards, where other doctors usually see patients before the medical student. Often, the doctors order a range of tests, but the student is never walked through the thought process that went into making those decisions. "At the medical student level, they have not yet internalized those patterns of how to order things. So if no one is forcing them to really justify each of their decisions, then that foundation of understanding why we order things the way we order them is never established."