Simon M. Helfgott, MD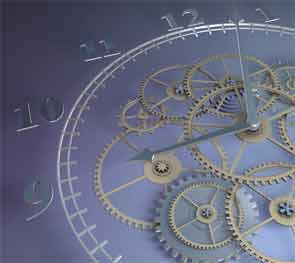 In life, and even in death, timing may be everything.
Twenty years of schooling and they put you on the day shift.
—From "Subterranean Homesick Blues," Bob Dylan
A Springtime Rite
For many years, one of the bureaucratic rituals that heralds the arrival of spring has been the submission of the annual fellowship program training survey to the Accreditation Council for Graduate Medical Education, better known as the ACGME. Program directors are asked to reply to a host of questions, with most of these queries focusing on the nuts and bolts of the training that is offered. Do fellows have access to electronic medical records? Are faculty members available to discuss cases after clinic hours? Does the on-call schedule comply with the recently implemented ACGME duty-hour rules? Can the program director confirm the location of the rheumatology fellows' on-call room? That last question always makes me chuckle. Maintaining a call room for rheumatology fellows? What a waste of space that would be! After all, we are fortunate to work as specialists who are rarely summoned to the hospital late at night to deal with pressing clinical concerns. The thought of having a dedicated on-call room seems oxymoronic and I feel as though publicizing the location of this room to our fellows could stir some after-hours mischief.
The Good Old Days
However, the people running the ACGME are not pranksters. They are dead serious about requiring programs to comply with duty-hour regulations and have not hesitated to sanction some of the most prestigious training programs that have violated the work rules. For decades, the need to work long, grueling hours was considered a requisite part of medical training. It was supposed to make you a tougher, smarter doctor. Many readers will recall those insufferable days of yore, when being on call for entire weekends or for three nights in one week was not unusual. Caffeine, and lots of it, got some of us through those lengthy mind- and body-numbing shifts, although the house staff lounge in the Montreal hospital where I trained also kept a converted Coke machine well stocked with ice-cold pints of Molson Ale. Quelle vie!
Work Hours Get Slashed
About a decade ago, the rules began to change. The impetus was the publication of a series of observations by the Harvard Work Hours, Health, and Safety Group, based at the Brigham and Women's Hospital in Boston, on the effects of extended work shifts and the increased frequency of both serious medical errors and motor vehicle accidents among interns. The first study compared the rates of serious medical errors made by interns while they were working according to a traditional schedule with extended (24 hours or more) work shifts every other shift (an "every third night" call schedule) and while they were working according to an intervention schedule that eliminated extended work shifts and reduced the number of hours worked per week.1 The total rate of serious errors on the critical care units was 22% higher during the traditional schedule than during the intervention schedule. During the traditional schedule, interns committed 20% more serious medication errors than during the intervention schedule and made 5.6 times as many serious diagnostic errors. These researchers concluded that physician sleep deprivation may be harmful to patients, but subsequent studies suggested that it could pose a serious health hazard for the doctors themselves. Using a web-based survey of over 2,700 interns, they observed that the odds ratios for reporting a motor vehicle crash and for reporting a near-miss incident after the completion of an extended work shift were 2.3 and 5.9 respectively, when compared with a shift that was not of extended duration.2 Every extended work shift increased the monthly risk of a motor vehicle crash by 9.1%, and increased the monthly risk of a crash during the commute from work by 16.2%. With over 8,000 medical trainees working in my city at any given time, I think I have finally solved the puzzle about why Boston drivers are so exceptionally bad!