In 1950, Philip S. Hench and his co-workers Edward Kendall and Tadeus Reichstein received the Nobel Prize for medicine for their landmark discovery of glucocorticoids and the beneficial effects in rheumatoid arthritis (RA). Since that time, glucocorticoids have become one of the most commonly prescribed classes of drugs in all of medicine, although many issues about optimal use remain surprisingly unknown. This article summarizes the current knowledge on the mode of action of glucocorticoids and highlights approaches to improve the risk–benefit ratio of these important drugs, as well as the development of novel glucocorticoids or glucocorticoid receptor ligands. In this regard, the focus of this discussion will be on a new concept in drug administration termed chronotherapy with modified-release (MR) prednisone for the treatment of RA.
Glucocorticoids' Mode of Action
As shown in extensive studies in vivo and in vitro, glucocorticoids mediate their antiinflammatory and immunosuppressive effects by four different mechanisms that, unfortunately, also produce their serious adverse effects. These mechanisms include:
ADVERTISEMENT
SCROLL TO CONTINUE
The classical genomic mechanism resulting from activation of the cytosolic glucocorticoid receptor (cGCR);
Secondary nongenomic effects initiated by the cGCR;
Membrane-bound glucocorticoid receptor (mGCR)– mediated nongenomic effects; and
Nonspecific, nongenomic effects caused by interactions with cellular membranes.1-3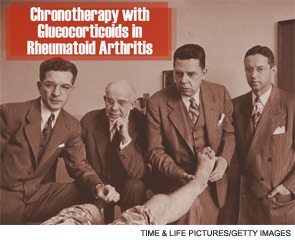 Arthritis specialists (left to right) Dr. C. H. Slocumb, Dr. Edward C. Kendall, Dr. Philip S. Hench, and Dr. H. F. Polley examining a patient at the Mayo Clinic.
Each of these mechanisms will be considered in turn.
Glucocorticoid Mechanisms of Action
Classical genomic mechanism: The term classical genomic refers to the most important mechanism of glucocorticoid action that results in changes in gene expression via transactivation and transrepression. This mechanism involves passage of glucocorticoid molecules through the plasma membrane, high-affinity binding of these molecules to the inactive cGCR, formation of the activated glucocorticoid/cGCR complex, and translocation of the complex into the nucleus. The term transactivation refers to transcriptional transactivation by binding of a dimerized glucocorticoid receptor (GR) protein complex to the promoter of glucocorticoid-regulated genes, ultimately leading to upregulated synthesis of certain regulatory proteins. The interference with the activity of (proinflammatory) transcription factors (such AP1, NF-қB, or IRF-3) by GR monomers is called transrepression and leads to the down-regulation of (proinflammatory) protein synthesis. It should be stressed that these processes require time to occur—30 minutes or more pass before significant changes are recognized in regulator protein concentrations. It usually takes hours or days before changes on a cell, tissue, or organ level become evident. In contrast, nongenomic effects occur rapidly, within seconds or minutes.