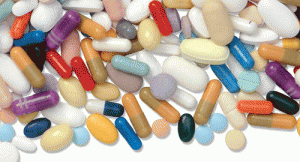 Romosozumab Effective for Men & Women with Osteoporosis
The Phase 3 BRIDGE (placeBo-contRolled study evaluatIng the efficacy and safety of romosozumab in treatinG mEn with osteoporosis) study recently reported positive top-line results for romosozumab.1 Romosozumab works by inhibiting the protein sclerostin and has a dual effect on bone, both increasing bone formation and decreasing bone resorption.
In the BRIDGE study, men (n=245) were randomized 2:1 to receive either 210 mg romosozumab subcutaneously every month or placebo subcutaneously every month for 12 months. A statistically significant increase in bone mineral density (BMD) at Month 12 compared with placebo-treated patients in the lumbar spine as assessed by dual-energy X-ray absorptiometry was the primary endpoint achieved. The secondary endpoints were also met, which included statistically significant BMD increases at Month 12 at the femoral neck and total hip, as well as statistically significant BMD increases at Month 6 at the lumbar spine, femoral neck and total hip—all compared with placebo-treated patients.
The most frequently reported adverse effects occurring in more than 5% of romosozumab-treated patients were back pain, constipation, headache, hypertension and nasopharyngitis. Injection-site reactions occurred in 5.5% of romosozumab-treated patients and 3.7% of placebo-treated patients; most reactions were mild in severity.
The Phase 3 STRUCTURE (STudy evaluating effect of RomosozUmab Compared with Teriparatide in postmenopaUsal women with osteoporosis at high risk for fracture pReviously treated with bisphosphonatE therapy) study showed statistically significant increases in hip BMD and strength in postmenopausal women with osteoporosis transitioning from bisphosphonate treatment.
Participants were given 210 mg romosozumab once monthly and compared with those given 20 mcg teriparatide daily for 12 months.2 STRUCTURE included postmenopausal osteoporotic women (n=436) averaging 72 years, with a history of non-vertebral fracture after age 50 or vertebral fracture and treatment with bisphosphonate therapy for a minimum of three years prior to transitioning to romosozumab or teriparatide therapy. For secondary endpoints, romosozumab-treated patients had significantly greater increases in BMD from baseline and increases in strength compared with teriparatide-treated patients.
Janssen Drops Out of Fulranumab Trials
Fulranumab is a non-opioid biologic, anti-nerve growth factor compound that was being investigated to treat osteoarthritis pain in collaboration between Janssen Research and Amgen. Due to safety concerns during Phase 3 clinical trials, Janssen has relinquished their licensing agreement with Amgen, who will retain all of the fulranumab program rights.3
---
Michele B. Kaufman, PharmD, CGP, RPh, is a freelance medical writer based in New York City and a pharmacist at New York Presbyterian Lower Manhattan Hospital.