It was April 1987, and 17-year-old Bridget Hood and her family were planning a spring break vacation from their California home to Hawaii. To prepare for the trip, the teenager booked several sessions in a tanning booth, determined not to look too pale on the beach. Little did she know that the excessive sun exposure would trigger immune system changes from genes encoded within her DNA, awakening a disease that, unbeknownst to Bridget and her family, went back at least three generations in the Hood family.
By the time Bridget returned from the Hawaii vacation, her body was covered in rashes, including the distinctive butterfly rash. She felt feverish and achy and it soon became clear that something was very wrong with her kidneys. Bridget was hospitalized to undergo a kidney biopsy, and and she and her family received the diagnosis on May 8, a day they will never forget. The diagnosis was systemic lupus erythematosus, the same disease, she now knows, that killed two great aunts and sickened her great-grandmother.
This powerful family history is why Bridget, now 40, and her youngest sister, Barbara Scholze, 33, were so eager to join the Sisters of Women with Systemic Lupus Erythematosus (SisSLE) study. They know their DNA has a story to tell. Bridget is just happy she's still alive and well enough to help tell it, because her journey through the world of lupus over the past 25 years has been anything but smooth.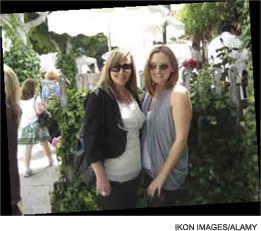 Bridget (left) and Barbara.
Steroids and Swelling
With the diagnosis of lupus, doctors put Bridget on high doses of steroids to stem the inflammation; she then began experiencing severe paranoia and hallucinations. A restrictive health insurance policy kept her from switching doctors, and her nephrologist—the only specialist she was seeing—was stymied. A year and a half later, Bridget returned to the hospital, severely malnourished, every part of her body swollen with fluid her kidneys couldn't process. "The doctors said that if they could suck the water out of my body I would be so emaciated I would look as if I were starving to death," Bridget, who now lives on Corona del Mar, Calif., recalls.
Doctors inserted a central line for parenteral nutrition and started cyclophosphamide. For the next three years, Bridget received monthly infusions that caused severe side effects. Sometimes she'd vomit 30 times in an eight-hour period, she remembers, because she was allergic to all available antinausea medications. Eventually, it began to feel as if the chemotherapy was producing more problems than the lupus. Finally, at age 22, Bridget told her doctor she couldn't do it anymore.