The State University of New York (SUNY) at Stony Brook was founded in 1957, and is currently known as Stony Brook University. In the 1970s, when the Health Sciences Center was still in the cocoon stages of its metamorphosis, the School of Medicine, under the brilliant stewardship of Marvin Kuschner, MD, was already on a mission of recruiting outstanding leaders who would lead and shape the various departments and their divisions into outstanding centers for research.
One of these early great leaders was Harry W. Fritts Jr., MD, a pulmonologist, who came from Columbia University in 1977 to assume the position of the Edmund D. Pellegrino Professor and Chair of Medicine. Dr. Fritts was a true visionary, and right from the start, he was determined to build one of the finest departments of medicine in the country.
ADVERTISEMENT
SCROLL TO CONTINUE
Department of Rheumatology Created
An early beneficiary of this vision was the Division of Allergy, Rheumatology and Clinical Immunology. Allen P. Kaplan, MD, was recruited to serve as inaugural chief of the nascent division in 1978. This appointment was significant for a number of reasons. First, as the head of allergic diseases at the National Institutes of Health, Dr. Kaplan was already known as a prolific researcher who had made invaluable contributions to the area of urticaria and angioedema. Therefore, his appointment as the first head boded well for the creation of a world-class division focused on fulfilling the three major missions: patient care, education and research.
Additionally, although his clinical, as well as research, focus was dedicated more to his first love, allergy, he was also a highly regarded board-certified rheumatologist. Thus, it was fitting that he would lead the combined Division of Allergy, Rheumatology and Clinical Immunology.
ADVERTISEMENT
SCROLL TO CONTINUE
Even before he left the NIH to take the reins at Stony Brook, Dr. Kaplan was already busy reaching out to potential candidates whose expertise could contribute to the aspirations of the new division. Ironically, however, the first members, who, together with Dr. Kaplan, became the core faculty of the division when it started in 1978, were already conveniently in place.
Peter D. Gorevic, MD, a rheumatologist and board-certified allergist from New York University (NYU), was already working on a part-time basis at the Northpoint VA Hospital; and Michael Silverberg, DPhil, an Oxford-educated and Yale-trained biochemist, was working in the Division of Hematology at Stony Brook. In July 1979, Berhane Ghebrehiwet, DVM, DSc, whose expertise in the field of complement study would enhance that of Dr. Kaplan's, was recruited to join the group. At the time, Dr. Ghebrehiwet was a senior research associate in the laboratory of Dr. Hans J. Müller-Eberhard at the Scripps Clinic and Research Foundation (now Scripps Research Institute or SRI) in La Jolla, Calif.
Although these four individuals laid the foundation for a strong division, significant recruitment of physician–scientists, board certified in allergy, rheumatology or both, continued well until the end of 1980s. These recruits were Max Hamburger, MD (NIH); Lewis Yecies (NIH); and David Volkman, MD, PhD, allergist and cellular immunologist (NIH); Ray Dattwyler, MD, immunologist/rheumatologist (Boston); and Charles Steinman MD/rheumatologist (NYU).
ADVERTISEMENT
SCROLL TO CONTINUE
National Leadership Established
By 1994, the division had grown to 11 full-time faculty, seven individual research laboratories, with an annual research budget of $3.5 million (including federal, state and private funding), seven fellows, several postdoctoral researchers and a combined support staff of 55. Due to his outstanding leadership, Dr. Kaplan was offered an opportunity to become director of the National Institute of Arthritis, Musculoskeletal, and Skin Institute at NIH, but he ultimately chose to stay at Stony Brook.
During this period of time, a reshuffling of leadership within the division/department of medicine took place, too. In 1987, Dr. Harry Fritts retired, and Dr. Kaplan was appointed to succeed as chairman of medicine. Dr. Gorevic was appointed to lead the Division of Allergy/Rheumatology and Clinical Immunology.
During the subsequent seven to eight years, the division grew well and flourished, and it received one of the National Allergy Center Grants for much of this period in addition to individual research grants. As a result, the division produced a considerable impact in rheumatology as well as allergy and clinical immunology at both national and international levels. For example, Dr. Kaplan was elected president of the American Academy of Allergy, Asthma, and Clinical Immunology from 1989–1990, president of the Clinical Immunology Society from 1990–1991 and president of the World Allergy Organization from 1990–1993.
The Department of Medicine also made excellent strides; during the first four years of Dr. Kaplan's chairmanship, the research budget tripled and the clinical incomes quadrupled. In fact, the Department of Medicine research budget in 1991, according to Stony Brook President John Marburger, exceeded that of any department in the SUNY system, including all the basic sciences.
Since the 1980s, the division has trained approximately 60 clinical fellows in rheumatology and allergy/immunology, and some of the early trainees have become past and current chiefs/directors in the fields.
Change
Unfortunately, a downturn of the division started immediately after Dr. Kaplan stepped down from chairman of medicine in September 1994, and in April 1997, he left Stony Brook to assume a new leadership position at the Medical University of South Carolina. Dr. Gorevic left the division, too, and assumed a position as director of the Division of Rheumatology at the Icahn School of Medicine at Mount Sinai in New York. Consequently, there was a huge vacuum in the division, resulting in an accelerated downhill spiral.
Another negative impact was the dissolution of the division into two nascent sections in 1995: Allergy/Immunology and Rheumatology. As expected, this decision led to poor advancement of the two academic units and the negative outcome that allergist/immunologists were no longer being trained. So what next?
Looking to the Future
Under the new leadership of Dr. Vincent Yang, chairman of the Department of Medicine, a gastroenterologist-scientist, rebuilding of the division has started with leadership support.
In August 2015, Qingping Yao, MD, PhD, was recruited from the Cleveland Clinic to head the Division of Rheumatology. Dr. Yao, a medical school graduate in China, served as rheumatologist and associate professor of medicine at Peking Union Medical College Hospital in the early 1990s. After training in internal medicine and rheumatology at UCLA in the U.S., Dr. Yao served as a senior rheumatologist from 2008 until 2015 and founding director of the Clinic for Adult Autoinflammatory Diseases at the Cleveland Clinic. Having been in his position at Stony Brook University several months now, Dr. Yao has already laid out a solid plan to rebuild and expand the combined Division of Rheumatology, Allergy and Immunology.
A Center for Autoinflammatory Diseases has been created to provide specialized care and research for patients with periodic fever syndromes. New recruitment is underway for full-time rheumatologists and allergists/immunologists.
As a prominent researcher in the field of autoinflammatory diseases, Dr. Yao has a vested interest in translational research, as does Dr. Ghebrehiwet—the only "survivor" of the founding members of the old division. Dr. Ghebrehiwet is an internationally renowned expert in the study of complement in such diseases as systemic lupus erythematosus, allergic diseases and malignancy.
Although the glory days of the old division are behind us, there is ample opportunity to rebuild the division so that it can, once again, well fulfill the academic missions it was established to serve: patient care, teaching and research. We hope we can forge a strong team under the current leadership and realize our goals.
---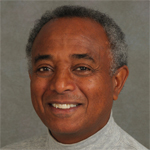 Berhane Ghebrehiwet, DVM, DSc, is an immunologist and professor of medicine and pathology. He is one of the founding members of the Division of Allergy, Immunology and Rheumatology at SUNY and has devoted most of his scientific career to unraveling the traditional and non-traditional functions of C1q, with particular emphasis on the role of C1q and its receptors in infection, autoimmune diseases (e.g., SLE and angioedema) and proliferative malignancies.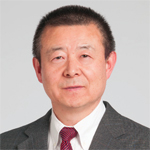 Qingping Yao, MD, PhD, is a rheumatologist and the program director and chief of the Division of Rheumatology, Allergy and Immunology. His research interest is in autoinflammatory diseases/periodic fever syndromes, and he is credited with the discovery of a new syndrome, termed NOD2-associated autoinflammatory disease.