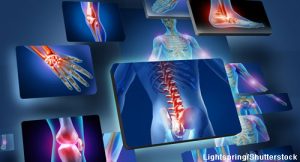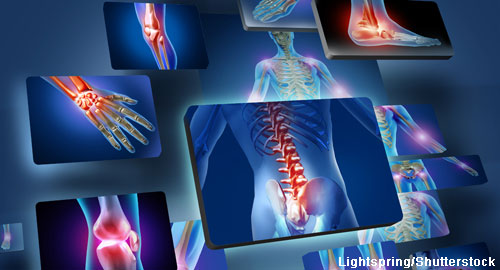 Approximately 40% of patients with rheumatoid arthritis (RA) experienced episodic symptoms of inflammatory arthritis before they received a clinical diagnosis, according to research from Ellingwood et al. This study provides new information about how frequently palindromic rheumatism precedes full-blown RA and yields insights about the specific traits that may result in RA.1
Background
Researchers apply the term palindromic rheumatism to periodic attacks of articular and periarticular inflammation, which most commonly affect one joint at a time, typically the fingers, wrists or knees.2 Attacks last from hours to days and resolve spontaneously. Although radiographic damage from these attacks is not evident, the periods of inflammation can be associated with temporary increases in inflammatory markers.3
Various diagnostic criteria for palindromic rheumatism have been proposed. One set of diagnostic criteria requires recurrent attacks of arthritis in one or more joints lasting a few hours to one week, with physician verification of at least one attack. Additionally, the criteria require subsequent attacks in at least three different joints, as well as physician exclusion of other possible causes of arthritis.2 Other criteria have made other additions, such as lack of radiographic damage.1
The prevalence of palindromic rheumatism is not well established. Although its frequency may be significantly less than RA, it may occur more frequently than previously believed.1 One retrospective Canadian study found an incidence of one case of newly diagnosed palindromic rheumatism for every 1.8 cases of newly diagnosed RA over a two-year period.4
Currently, it's unclear if palindromic rheumatism should be considered a distinct diagnostic category or part of the RA disease spectrum.5 Estimates from the current literature put the risk of progression from palindromic rheumatism to RA at about one in three. However, some studies report higher rates.1
Previous research has established that patients with palindromic rheumatism have high rates of positivity for serological markers, such as rheumatoid factor (RF) and anti-citrullinated protein antibodies (ACPAs).5 Additionally, the presence of RF and ACPAs have both been associated with the progression of palindromic rheumatism to RA.6,7 Yet many of these patients, even seropositive ones, never develop persistent RA—even after long follow-up periods.5
The optimal treatment of palindromic rheumatism is also a matter of debate. Janet Pope, MD, MPH, FRCPC, professor of medicine in the division of rheumatology, University of Western Ontario Schulich School of Medicine, London, Ontario, says, "There are few studies of palindromic rheumatism and how to treat it. Often, we use non-steroidal anti-inflammatory drugs."
Antimalarials may be used if a patient is experiencing too many flares. "Rarely, other [disease-modifying anti-rheumatic drugs], such as methotrexate, are needed," says Dr. Pope, who is also an author of the recent study.
The Study
Dr. Pope and colleagues used data from the Canadian Early Arthritis Cohort (CATCH). This study includes more than 3,000 patients from several Canadian sites with early RA. In the final analysis, the researchers looked at a cohort of 154 patients enrolled in CATCH between April 2017 and March 2018. At enrollment, participants had experienced between six weeks and 12 months of persistent synovitis.
The researchers surveyed the patients about their history of joint symptoms prior to RA diagnosis. They also assessed other features, such as ACPA and RF serology, measures of disease activity and medical comorbidities. They used descriptive, chi-square and t-tests to compare preexisting characteristics of patients with and without a patient-reported history of palindromic rheumatism. Physician assessments necessary for formal diagnosis of palindromic rheumatism were not available.
Results: "Approximately 40% of patients with early [RA] said they started with swelling that came and went," says Dr. Pope. "This rate seemed high, but it was comparable to some studies in the literature."
Dr. Pope was careful to note this finding does not necessarily mean all patients with previous joint swelling experienced palindromic rheumatism as a clinician would define it. Because the classification relied on patient reporting, some cases may have been misclassified.
"Those with palindromic rheumatism in the cohort were often female and more likely to be RF positive, as would be supported by the literature," says Dr. Pope. "They also had less swollen joints when they were diagnosed with [RA]."
Dr. Pope suggests this latter finding may be accounted for in different ways. She notes seropositive patients do not need to have as many swollen joints to meet RA criteria compared with seronegative ones. So seropositive patients may receive their diagnosis at a less advanced disease stage. It may also be that patients with palindromic rheumatism come to medical attention more quickly and are, therefore, diagnosed earlier. It's also possible the disease course is somewhat different in patients who display symptoms of palindromic rheumatism prior to developing RA.
The study also found patients with prior palindromic rheumatism were more likely to have comorbidities, such as back or spine arthritis. Dr. Pope says this unexpected finding would need verification and follow-up for interpretation.
Moving Forward
"The study findings have implications for earlier recognition of [RA] in routine clinical practice, particularly for patients with more insidious or milder disease activity at the onset of RA," Dr. Pope says. "Patients with palindromic rheumatism should be followed by rheumatologists, [because] some will definitely develop [RA]. They can present their [RA] with less swollen joints at onset, but they are more likely to be seropositive."
Dr. Pope also cautions that early RA can be missed if patients first present between attacks. Early diagnosis of RA is key. "The earlier we diagnose and treat [RA], the more likely patients will go into remission," she says. Dr. Pope points out that the modern use of cell phone cameras can sometimes provide confirmation of previously swollen joints, which may be helpful in diagnosis.
Moving forward, Dr. Pope thinks it may be helpful to standardize the definition of palindromic rheumatism for better insights when comparing research findings. She believes it may also be revealing to follow patients with palindromic rheumatism and identify potential predictors of ultimate transformation to RA. Theoretically, such biomarkers may allow intervention at early stages to help prevent RA development.
"We are not there yet, but biomarkers could be studied," Dr. Pope says. "We would need prospective clinical trials to see whether more aggressive interventions, earlier on, may help prevent development of [RA] in some patients with palindromic rheumatism."
---
Ruth Jessen Hickman, MD, is a graduate of the Indiana University School of Medicine. She is a freelance medical and science writer living in Bloomington, Ind.
References
Ellingwood L, Schieir O, Valois MF. Palindromic rheumatism frequently precedes early rheumatoid arthritis: Results from an incident cohort. ACR Open Rheumatology. 2019;0(0):1–6.
Hannonen P, Möttönen T, Oka M. Palindromic rheumatism. A clinical survey of sixty patients. Scand J Rheumatol. 1987;16(6):413–420.
Kaushik P. Palindromic rheumatism: A descriptive report of seven cases from North Dakota and a short review of literature. Clin Rheumatol. 2010 Jan;29(1):83–86.
Powell A, Davis P, Jones N, et al. Palindromic rheumatism is a common disease: Comparison of new‐onset palindromic rheumatism compared to new‐onset rheumatoid arthritis in a two‐year cohort of patients. J Rheumatol. 2008 Jun;35(6):992–994.
Cabrera-Villalba S, Sanmartí R. Palindromic rheumatism: A reappraisal. Int. J. Clin. Rheumatol. 2013; 8(5): 569–577.
Gonzalez-Lopez L, Gamez-Nava JI, Jhangri GS, et al. Prognostic factors for the development of rheumatoid arthritis and other connective tissue diseases in patients with palindromic rheumatism. J Rheumatol. 1999 Mar;26(3):540–545.
Emad Y, Anbar A, Abo-Elyoun I, et al. In palindromic rheumatism, hand joint involvement and positive anti-CCP antibodies predict RA development after one year of follow-up. Clin Rheumatol. 2014 Jun;33(6):791–797.