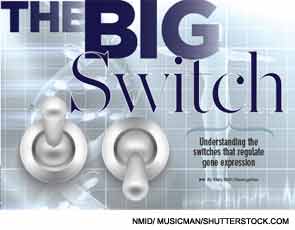 SAN DIEGO—John O'Shea, MD, chief of the molecular immunology and inflammation branch and scientific director at the National Institute of Arthritis and Musculoskeletal and Skin Diseases (NIAMS) in Bethesda, Md., provided an overview of the evolving understanding of the genome and epigenome that is opening new ways to look at the pathogenesis of rheumatic diseases and the potential for improved and better-targeted therapeutics in his talk at the 2013 ACR/ARHP Annual Meeting. In his presentation, "Deciphering Helper T Cell Identity: Finding Genomic Switches and Their Regulators," he spoke about the new understanding of the genome that is now focused on learning why the small number of genes actually active in the genome get switched on or off and cause disease.
The Big Switch
The major premise of Dr. O'Shea's talk was to describe the evolution in thought over an understanding of the genome, and how this evolution is changing an understanding of the genetic influence of diseases such as lupus and rheumatoid arthritis. The central dogma of molecular biology for years, he said, was that most of the genome was comprised of genes in which DNA makes RNA, which in turn makes proteins. We now know, he said, that in many cases the transcription stops at RNA so that much of the genome turns into RNA but doesn't turn into protein.
"The striking finding about a decade ago is that less than 2% of the genome is genes," he said. What is now known is that, although only about 2% of the genome is genes, most of the genome is active and most of this activity appears to come from switches.
The big switch, Dr. O'Shea said, is that most of the genome appears to be switches that control this tiny portion of the genome that is genes. An important way that the switches seem to work is that the majority of the genome is translated into RNA, even though only a tiny portion of the genome is transcribed into RNA and translated in protein.
"The reason this is important is because, when we look at genetic associations with diseases like lupus and rheumatoid arthritis, often the parts of the genome associated with the risk for disease are not genes but, presumably, the switches," he said, adding that, in general, "the risk of autoimmune disease most often maps to places in the genome that does not code for typical protein-coding genes."