BOSTON—The latest research on the pathophysiology and treatment of small- and large-vessel vasculitides was presented by three international experts at a clinical symposium called "Therapeutic Decisions in Systemic Vasculitis" at the ACR/ARHP Annual Scientific Meeting in Boston last November. Alexandra Villa-Forte, MD, of the rheumatic and immunologic disease department at the Cleveland Clinic, and Carol Langford, MD, MHS, director of the Center for Vasculitis Care and Research at the Cleveland Clinic, discussed treatment options for small-vessel vasculitides. Paul Bacon, MD, professor of rheumatology at the University of Birmingham (U.K.), discussed large-vessel vasculitis.
You Might Also Like
Explore This Issue
March 2008
Also By This Author
For Treatment, Severity is Key
"The most important message," for practitioners, said Dr. Villa-Forte, is that the treatment approach should be "decided according to the severity of clinical manifestations" and the rate of change of disease progression.
ADVERTISEMENT
SCROLL TO CONTINUE
Vasculitides are a diverse group of diseases the result from inflammation of the arteries, veins, capillaries, or other blood vessels. Depending on the extent and duration of vessel involvement, vasculitis can be very serious because it ultimately impedes blood flow to vital organ systems. It affects patients of all ages, can be chronic or acute, and often flares up after long periods of remission.
Each year, only about 500 Americans are diagnosed with Wegener's granulomatosis—a type of small-vessel vasculitis that eventually causes damage to the lungs and kidneys. The same low incidence is true for large-vessel vasculitis, like Takayasu's arteritis. Not surprisingly, practicing rheumatologists may not have extensive experience with the management of this family of diseases, and treatment options have been limited.
ADVERTISEMENT
SCROLL TO CONTINUE
Vasculitic disease can be difficult to diagnose because they share symptoms—like fatigue, abdominal pain, hypertension, renal insufficiency, and neurologic dysfunction—with many other diseases. A firm diagnosis usually requires a tissue biopsy of one of the organs that has been affected.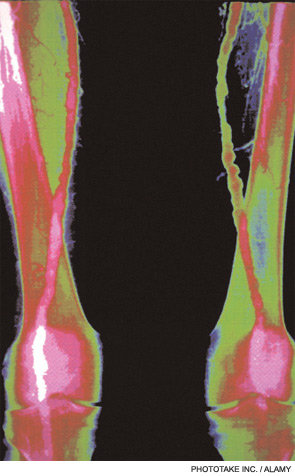 Arteriogram showing arteritis in the lower limbs.
Small- and Medium-Vessel Vasculitides
Antineutrophil cytoplasmic antibody (ANCA)–associated vasculitides are among the most common forms of vasculitis. Until recently, the standard treatment of ANCA-associated systemic vasculitis was cyclophosphamide (CYC) and prednisolone. However, both of these drugs can have series side effects.
"The initial protocols for CYC came with high rates of infection, bone marrow suppression and other prolonged types of toxicity," said Dr. Villa-Forte. Since then, combination therapy of CYC, prednisolone, and methotrexate (MTX) "has made a marked impact on the treatment of the disease. Otherwise it would be mostly fatal."
ADVERTISEMENT
SCROLL TO CONTINUE
The first study to directly compare CYC and MTX was conducted by nephrologist Kirsten de Groot and colleagues at the Hannover Medical School in Germany in 2005 (Arthritis Rheum. 2005;52(8):2237-2242). The 100-patient study found that, at six months, the remission rate in patients treated with MTX was 89.8%, just slightly less than the 93.5% remission rate of patients treated with CYC. At the same time, 34% of patients treated with MTX experienced adverse events, while 74% of CYC patients experienced adverse events.