Another potential weakness of forbidding trainee contact with pharmaceutical representatives is that it ignores the reality of life after training, when contact with pharmaceutical representatives is not strictly prohibited and may in fact be a regular occurrence. Should we expect our trainees to know how to behave in these encounters without any explicit discussion? A restrictive stance neglects an important resource available to help trainees in these instances—ourselves.
We educate our trainees about other forms of bias (in themselves, about their patients and their conditions) and follow this with deliberate practice. Similarly, we should honestly discuss our perspectives on interactions with the pharmaceutical industry and help our fellows navigate them.
ADVERTISEMENT
SCROLL TO CONTINUE
A Balanced Approach
What course of action should we take to improve our fellows' education and promote better care for our patients? In my opinion, an abstinence-only policy will not work. Fellows should be prepared for their future interactions with the pharmaceutical industry, whether at meetings, in the office or at sponsored talks. The easiest step, of course, is to provide explicit education to our fellows on bias and conflicts of interest with regard to relationships with industry.
We should follow this instruction with practice—something that will require more careful scrutiny of educational material, as well as informed discussion. We cannot boil this topic down to one question on the presence of bias, but instead must look at specific manifestations of bias: For example, does information about a new medication include a discussion about established therapies, a literature review or a discussion of limitations of the clinical trial?
ADVERTISEMENT
SCROLL TO CONTINUE
We must teach our fellows to be conscientious learners at all times, whether the talk is sponsored or not. Practicing this critical analysis may require us to chaperone their interaction with pharmaceutical companies rather than forbidding it, ignoring it or pretending it doesn't exist.
Allowing our fellows to interact with industry while maintaining an objective, up-to-date curriculum requires a careful balancing act. But it is one that is intellectually honest: We can show that we trust our fellows to meet with people with a connection to industry while also critiquing sources of bias, just as we trust them to manage patients. Before we know it, they will be doing both independently, free from our oversight.
---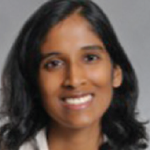 Arundathi Jayatilleke, MD, MS, is an assistant professor and director of the Rheumatology Fellowship Program at Drexel University College of Medicine in Philadelphia.
ADVERTISEMENT
SCROLL TO CONTINUE
References
Editor's note: This article was written for The Rheumatologist on behalf of the ACR Committee on Ethics & Conflict of Interest. Comments or questions? Contact us at klosavio@wiley.com.