Explore This Issue
May 2013
Also By This Author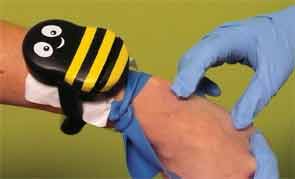 A patient prepares to get an IV infusion with Buzzy.

One early morning in the summer of 2004, as she was driving home from an overnight shift at the hospital, Amy Baxter, MD, came up with a simple—but, she thought, powerful—idea.
ADVERTISEMENT
SCROLL TO CONTINUE
Her son had just had a horrible experience getting a shot. But did the age-old tradition of terrified, crying children being tugged into the pediatrician's office really have to be the tradition?
What if vibration and cold were applied near the injection site to, in essence, snuff out much of the pain of the needle?
ADVERTISEMENT
SCROLL TO CONTINUE
Panacea for Needle Phobia
Dr. Baxter worked on the idea for a while and soon, Buzzy was born. It's a contraption that applies a high-frequency vibration sensation near the injection site, along with ice, that cuts down the amount of pain by about 50% in children. Buzzy was originally made in the form of a happy, cartoon bee to appeal to children, but Baxter soon found that it works even better for adults, including rheumatology patients needing weekly injections: In adults, it reduces the pain by about 80%, the company's research has found.
She was able to develop and manufacture Buzzy with a $1-million federal Small Business Innovation Research grant. The first Buzzy, which costs $39.95, was sold in 2009. And there are now 22,000 users, says Baxter, a pediatric pain physician and researcher.
It is sold mostly to patients and to hospitals, which use it mostly for IV access. But among specific diseases, rheumatology ranks near the top of the list, Baxter says.
ADVERTISEMENT
SCROLL TO CONTINUE
"Buzzy has unquestionably gotten people over the fear of needles," she says. "My kids don't even ask anymore, 'Am I going to get a shot?' They just say, 'Did you bring Buzzy?' "
A 2012 survey study out of the University of Toronto found that 24% of parents and 63% of children report a fear of needles. And that fear was the main reason for noncompliance with immunization in 7% of parents and 8% of children, the study found. The authors suggested a wider education about interventions that ease pain during injections.1
"We're raising a generation of needle-phobic kids, and once they're old enough to drive themselves to the doctor, they're not going to do it," Dr. Baxter says. "Then we're going to have a real problem with noncompliance."
At first, three-quarters of Buzzy's users were kids. Now, about two-thirds of the users are adults, she says. "A plain black version is now available for older users."