Explore this issue
May 2013
Also by this Author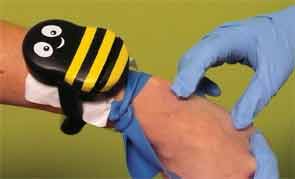 A patient prepares to get an IV infusion with Buzzy.

One early morning in the summer of 2004, as she was driving home from an overnight shift at the hospital, Amy Baxter, MD, came up with a simple—but, she thought, powerful—idea.
Her son had just had a horrible experience getting a shot. But did the age-old tradition of terrified, crying children being tugged into the pediatrician's office really have to be the tradition?
What if vibration and cold were applied near the injection site to, in essence, snuff out much of the pain of the needle?
| | |

Next →

|
Single Page