You Might Also Like
Explore This Issue
February 2014
Also By This Author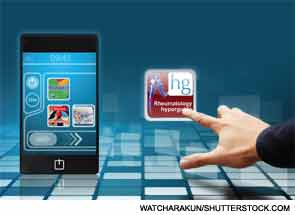 ADVERTISEMENT
SCROLL TO CONTINUE
SAN DIEGO—Technology advances like smartphone apps and virtual reality games may help rheumatology patients better adhere to treatment plans and even lead healthier lifestyles, said Maura Iversen, PT, DPT, at the at the 2013 ACR/ARHP Annual Meeting, held October 26–30. Dr. Iversen spoke as the 2013 ARHP Distinguished Lecturer. [Editor's Note: This session was recorded and is available via ACR SessionSelect at www.rheumatology.org.]
Mobile technology has greatly enhanced access to patients, overcoming barriers of time and inconvenience, said Dr. Iversen, professor and chair of the department of physical therapy at Northeastern University in Boston. A health professional might send a customized text message to remind a patient to take a medication or get daily physical activity, for example. Messaging can be programmed to suit an individual patient's treatment plan. "Right now, we are looking at a concept of personalized medicine. Mobile health may be one of the key parameters in global intervention" for health promotion, she said.
ADVERTISEMENT
SCROLL TO CONTINUE
Access to technology has also greatly increased in recent years, Dr. Iversen said. Currently, more than 3.2 billion individuals worldwide have mobile phones, so access through mobile technologies is a key area of growth for health care. According to the Pew Internet and American Life Project, 34% of U.S. adults 18 and older now own a tablet computer. Mobile health technologies include text messaging, video messaging, voice messaging, and mobile monitoring devices like accelerometers, which can monitor vital signs as well as the speed and distance of physical activity like walking. Interactive apps allow an individual to record personal health information on their phones, tracking symptoms, dietary intake, or physical activity, for example. There are estimated to be between 30,000 and 90,000 mobile health apps now available for smartphones, but only a few hundred have been formally evaluated, Dr. Iversen noted.
Exercise as Play
Virtual reality, a technology first popularized in arcade games, is now used for behavioral intervention as well. "Virtual reality is allowing both measurement and motivation of human behavior," said Dr. Iversen. Virtual reality includes screens displayed on stationary bikes that allow riders to envision themselves biking through scenic locations, as well as information on how many calories were burned during the workout. A more advanced form of the technology is immersion virtual reality, where a participant uses a special mask and smart gloves to manipulate an avatar, or stand-in, as it moves through a virtual scenario. Immersion virtual reality games are popular with individuals who have suffered a stroke, who practice physical movements through a virtual environment and track their progress over time, Dr. Iversen continued.