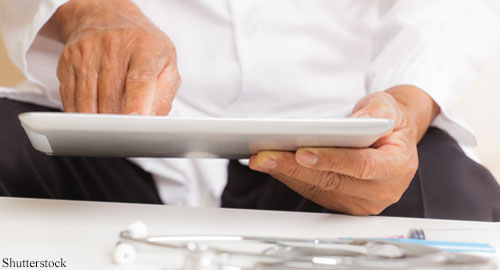 In many regions, rheumatologists are scarce, and shortfalls will only increase. Panelists in the session, Telehealth: Can It Expand the Rheumatology Workforce?, held Nov. 6 during the 2017 ACR/ARHP Annual Meeting, believe technology can help bridge the gap.
You Might Also Like
Also By This Author
The more specific term, telemedicine, "refers to clinical care delivered from a distance," said John A. McDougall, MD, postdoctoral fellow in rheumatology at Yale School of Medicine in New Haven, Conn., who coauthored a 2017 systematic review of telerheumatology programs.1 From a hub site, the rheumatologist communicates with the patient at a distant spoke site, such as a small community clinic or rural hospital, he said.
ADVERTISEMENT
SCROLL TO CONTINUE
"For the physical exam, the spoke site will also have a presenter, which could be a primary care physician or a community health worker or anything in between," he said. The rheumatologist can guide the presenter to conduct tests or physical examinations. Telemedicine modalities include video conferencing systems, such as Vidyo; secure provider-to-provider mentoring or training systems, such as the University of New Mexico's Project Echo; or asynchronous systems in which rheumatologists reply to information stored by a primary care provider.
"There are multiple ways rheumatologists can use all of these modalities in different phases in the diagnosis and management of disease," said Dr. McDougall. At initial encounters, the patient may need to travel to see the rheumatologist or be seen via videoconferencing with a presenter. As disease stabilizes, secure messaging may suffice.
ADVERTISEMENT
SCROLL TO CONTINUE
"Flares may require us to switch back to face to face or video messaging. In drug tapering or remission phases, maybe we can talk with the patient's care provider through e-consult systems."
Exciting New Field
For rheumatologists at regional hospitals or academic medical centers, "telemedicine is a fairly exciting way of rendering care to patient populations that are more difficult to access," said Daniel A. Albert, MD, a rheumatologist at Dartmouth-Hitchcock Medical Center in Lebanon, N.H., who mixes periodic in-person visits to smaller hospitals with telemedicine to provide care to patients in rural areas.
Many rheumatology follow-up visits do not require a physical exam, he said. "Telerheumatology works well in those scenarios. It may seem heretical to not have your patients there to be examined by you. Some patients may need to be examined by the presenter, or they may not be good candidates for telemedicine," he said.
ADVERTISEMENT
SCROLL TO CONTINUE
Telemedicine's main hurdles are administrative: credentialing, licensure, insurance and billing, said Dr. Albert. In all but nine states, the physician providing care must be licensed in the state where the patient is located. Physicians also must be credentialed at the hospital where the patient is receiving care. No template exists for telemedicine contracts, although a telemedicine association offers some resources online. There is a "-TH" suffix for ICD-10 reimbursement codes that involve telehealth. And controlled substances and infusions may be restricted if prescribed via telemedicine, he said.
"There is pressure for everyone to move forward [in] this [approach], because it's the right thing to do for our patients. There is no other way to provide care in some rural locations," he said.
Rural Rheumatology
In vast Alaska, rheumatologist Elizabeth Ferucci, MD, MPH, uses videoconferencing to see patients at 200 access locations around the state while she may be in her office at Alaska Native Medical Center in Anchorage.
"These locations may be rural clinics staffed by community health aides trained to do certain medical tasks in their villages," said Dr. Ferucci. Aides are supervised by primary care providers at 30 larger hub clinics across Alaska. She and other rheumatologists spend three days at 12 rheumatology field clinics twice a year. To save airfare costs, the state's health systems embraced telemedicine in 1999. Her system conducted 2,406 telemedicine visits in the last fiscal year.
Based on focus group data from Alaska Native and Native Hawaiian patients, "we felt that the initial patient-to-provider interaction should be face to face and that patients also should see the same provider on follow-up visits. So relationships, trust and continuity are very important among this population," she said. Generally, her system uses telemedicine only for follow-up visits.
Telerheumatology has benefits and drawbacks, said Dr. Ferucci. "Using it for a new consultation may reduce wait time to diagnosis for some patients. It can be used for triage. But one big disadvantage would be not having a physical exam on the first visit, and the lack of opportunity to establish that patient-provider relationship at this visit." Some of her patients do opt for telerheumatology to shorten the wait time for an appointment, but others choose to travel to Anchorage. Each physician has the videoconferencing software on their laptop, a webcam and speakers.
Does telemedicine really save time and money? Alaska's health systems estimate that of 4,400 telemedicine claims paid by Medicaid, 80% prevented the need for travel, which they translated to $2.8 million in net savings over a six-year period, she said.
Telemedicine has both advantages and unknowns, she said. "Is the quality of care different, better, worse or the same? We don't know yet. Does improved access translate to improved outcomes in the patient, as we would expect? We don't know. Is it cost effective? There are very few studies on this," she said.2
Military Medicine
The U.S. Department of Defense has used asynchronous systems for years to connect consulting specialists to providers deployed around the world, said Dan Battafarano, DO, MACP, division director of Rheumatology at the Uniformed Services University in San Antonio.
From 2004–2017, U.S. military doctors performed 14,355 teleconsultations in 21 subspecialty groups, including rheumatology, during which providers emailed medical information to a specialist or a central coordinator who then "pushed" the cases and questions to the correct specialty group. "The average reply time is less than six hours for an answer to the provider with minimal rheumatology skills even if they're on a Navy ship or in a combat support hospital," he said.
As the co-chair of the ACR 2015 Workforce Study, which revealed severe gaps in rheumatology providers to serve a rising patient population, Dr. Battafarano believes rheumatology must start to use telemedicine for patient screening and triage, as well as consultations with primary care colleagues.3
"We can increase access to care, limit costs, conduct useful monitoring and patient satisfaction is pretty good too," he said. "Pulling rheumatologists' time away from their primary patients is one metric that still needs to be measured. But the potential for telerheumatology is limitless."
---
Susan Bernstein is a freelance journalist based in Atlanta.
References
McDougall JA, Ferucci ED, Glover J, et al. Telerheumatology: A systematic review. Arthritis Care Res (Hoboken). 2017 Oct;69(10):1546–1557.
Tuckson RV, Edmunds M, Hodgkins ML. Telehealth. N Engl J Med. 2017 Oct 19;377(16):1585–1592.
Battafarano D, Monrad S, Fitzgerald J, et al. 2015 ACR/ARHP workforce study in the United States: Adult rheumatologist supply and demand projections for 2015–2030. Arthritis Rheumatol. 2016 Oct;68(suppl. 10).