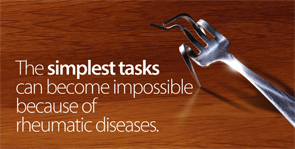 It's a scenario that occurs all too often. After you tell someone you're a rheumatologist, you receive that look—the blank stare, as if you've spoken to them in a foreign language. Six years ago, this scenario sparked a conversation among the ACR's leaders about the importance of promoting our profession to the public, including key stakeholders.
In 2010, the ACR took the first step by surveying its membership. Survey results indicated 90% of respondents support a public relations campaign to increase public awareness of our specialty and its unique, important position in the future healthcare system. In the wave of healthcare reform and emphasis on primary care, cognitive subspecialties like ours were at risk of not being properly valued. Our main strategy was to target legislators and policy makers and to give them a better understanding of the role that rheumatologists and rheumatology health professionals play in providing specialized and cost-effective care for patients with chronic musculoskeletal and rheumatic diseases.
ADVERTISEMENT
SCROLL TO CONTINUE
Simple Tasks Launched
With this knowledge, in 2011, the ACR launched the Simple Tasks public relations campaign, aimed at influencer audiences such as national legislators and policymakers, administration officials, advocacy leaders and physician groups. The ACR leadership and the team who initiated the Simple Tasks campaign hoped to make an impact by identifying key issues affecting rheumatologists and their patients, while laying a firm foundation to support further work in other areas as the campaign gained traction.
Through the work of this campaign—including partnering with other ACR efforts in the areas of government affairs and practice advocacy—we have made significant strides in advancing public awareness of the importance of rheumatology.
ADVERTISEMENT
SCROLL TO CONTINUE
The campaign has used and continues to develop tactics to reach influencer groups. From the initial campaign materials to the now-famous "bent fork" lapel pin (see photo below), numerous activities have been rolled out. Traditional media placements are utilized to reach audiences through the news outlets they turn to for information (e.g., Roll Call, Politico, The Washington Post). Digital and social media continue to be used to reach influencers through Facebook, Twitter, YouTube and SimpleTasks. Additionally, relationship-building activities that allow ACR members and staff to educate and work with influencers on our issues (e.g., holding face-to-face meetings with stakeholder groups) are employed. These are but a few of the many tactics the campaign employs.
To date, these tactics have brought about a number of successes. One of the most notable successes may be the change that we've seen among lawmakers. Thanks in large part to the bent fork lapel pin, rheumatology health professionals are now recognized and welcomed on Capitol Hill. Previously, we were spending the majority of our lobbying time explaining rheumatology and why rheumatic diseases matter. Many lawmakers have friends or family with rheumatic diseases. Because they recognize us with our bent fork lapel pin and recall their family member's or friend's illnesses, lawmakers are eager to engage in discussions with ACR members, staff, and partners and to understand our concerns and asks. This is exactly the kind of result that we hoped a PR campaign would affect.
The ACR Board is committed to using public relations to reach the groups that still need to hear from us. From these efforts, it is our expectation that when we tell someone we work in rheumatology, the face we see is a face of recognition, not confusion.
The campaign's successes extend far beyond Capitol Hill. Over the past six years, Simple Tasks has built a robust international and online presence that reaches countless individuals all over the world. Both the British Society for Rheumatology and the Asia Pacific League of Associations for Rheumatology have licensed the campaign and distribute campaign materials to their membership. Online, in the past year alone, more than 65,000 visitors have visited SimpleTasks. After only three months, the new, monthly Twitter chats, #RheumChat, have engaged more than 300 different participants, and its messages have reached more than 480,000 Twitter users.