The first hurdle for the USBJD was to secure funding to pay staff so that initiatives could go forward. With the American Association of Orthopedic Surgeons (AAOS) taking the lead, an office was established near AAOS headquarters in Rosemont, Ill. The USBJD has advanced on several parallel tracks, reports its current president, J. Edward Puzas, PhD, the Donald and Mark Clark professor of orthopaedics at the University of Rochester Medical Center in Rochester, N.Y. Some of the more successful include:
Project 100, an initiative to increase curriculum content for musculoskeletal conditions in 100% of U.S. medical schools. Working with the National Board of Medical Examiners (NBME), the USBJD was able to get them to add a musculoskeletal conditions topic-specific exam. The next phase is the formation of a Council of Musculoskeletal Educators, and its first program is a workshop to share best teaching practices.
The Young Investigators Initiative is like a "boot camp" for grant writing, says Dr. Puzas. Applicants are paired with mentors, come to twice-yearly intensive weekend seminars, and receive one-on-one coaching and critiques to secure funding for their research projects. Nearly 60 have now completed the program, securing an aggregate total of $14–18 million dollars in grant funding. "Securing grant support for research is a learned skill," notes Dr. Puzas, "and these young investigators are learning in a couple of weekends a year what it took the rest of us 5–10 years to finally figure out by trial and error!"
The USBJD's public education arm has partnered with a number of established patient-advocacy organizations to launch several high-profile initiatives: Protect Your Bones and Joints, aimed at high school students; Fit to a T, in partnership with the National Osteoporosis Foundation, encourages women to get baseline DEXA screening; and Straighten Up America, a flexibility and back pain program. Each year, on October 12–20, the USBJD celebrates National Action Week, which highlights prevention activities.
Dr. Puzas reports that planning has already begun for the BJD Global Network Meeting, which will be held October 21–25, 2009, in Washington, D.C., and will be, he says, "a real advocacy experience," featuring arranged meetings between international delegates and their embassies, as well as visits to Capitol Hill.
ADVERTISEMENT
SCROLL TO CONTINUE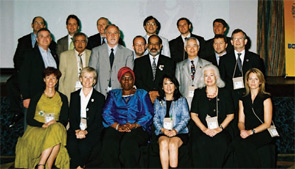 The International Steering Committee of the BJD, pictured with the South African Health Minister.
Going Forward
As the BJD rolls towards its finale, its organizers have actively prepared the foundation for the work ahead. For instance, the Department of Orthopaedics at Lund University has been designated as a WHO Collaborating Centre for Evidence-Based Health Care in Musculoskeletal Disorders. "This recognizes the importance our department has in musculoskeletal science, and follows on from the WHO's support of the Bone and Joint Decade, and the awareness that musculoskeletal diseases are the leading causes of morbidity and disability," says Dr. Lidgren.