Note to reader: As our understanding of COVID-19 evolves, some of the information in the article below, which was current at the time the article went to press, may have changed in the interim.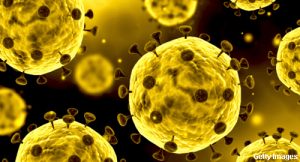 Patients and healthcare providers around the world are working hard to meet the challenges posed by the COVID-19 pandemic, in which more than 2 million individuals have been infected with the highly virulent SARS-CoV-2 virus.1 This new and evolving problem has prompted many important questions to be asked within the rheumatology community, particularly with respect to preventing infection in patients with autoimmune diseases, many of whom are being treated with immunosuppressants.
Advice for Patients
In late April, the Centers for Disease Control and Prevention (CDC) released an updated list of symptoms to watch for. Cassandra Calabrese, DO, a physician in the Department of Rheumatic and Immunologic Diseases, Cleveland Clinic, and a graduate of the combined rheumatology and infectious disease training program at Cleveland Clinic, notes the importance of social distancing and other preventive measures to decrease the spread of infection cannot be overstated.
Providers should counsel patients to stay out of public places and to work from home, practice excellent hand hygiene, resist touching the face as much as possible and follow all other recommendations disseminated by the CDC.2
It would be prudent to advise exposed patients to quarantine for 14 days & closely monitor for symptoms of infection, such as fever, cough & shortness of breath.
Dr. Calabrese notes it is not yet known whether patients with autoimmune diseases or those on immunosuppressive medications, such as conventional synthetic and biologic disease-modifying anti-rheumatic drugs (csDMARDs and bDMARDs), are at increased risk of COVID-19 or of more severe disease if infected. However, the COVID-19 Global Rheumatology Alliance is collecting data to answer these questions via several online registries for providers, and adult and pediatric patients with rheumatic conditions to document their experiences and outcomes with SARS-CoV-2 infection.3
Many patients are asking their rheumatologist what to do if they are exposed to someone with COVID-19. Dr. Calabrese points out that, although the level of risk associated with the exposure does make a difference (i.e., interacting for a few minutes at a distance with a COVID-19-positive individual vs. living with or working in close contact and over extended periods with COVID-19-positive individuals), it would be prudent to advise exposed patients to quarantine for 14 days and closely monitor for symptoms of infection, such as fever, cough and shortness of breath.