Editor's note: In this recurring feature, we first present a series of ultrasound images for your review, and then a brief discussion of the findings and diagnosis. Before you scroll to the discussion, examine these images carefully and draw your own conclusions.
History
A 2-year-old boy with a history of multiple strokes and vertebral artery dissection, currently on enoxaparin and coumadin, presents to the emergency department following three weeks of left knee pain and swelling. Serologic studies include a C-reactive protein of 1.4 mg/dL, erythrocyte sedimentation rate of 44 mm/hr, and a normal complete blood count. The following ultrasound images are obtained.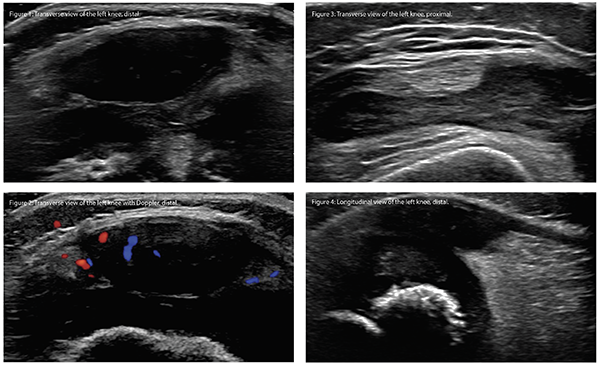 Our Findings
Findings/Diagnosis
The first two images, a transverse view of the distal left knee with and without Doppler, reveal a large anechoic collection with Doppler activity that is consistent with a non-ossified patella.