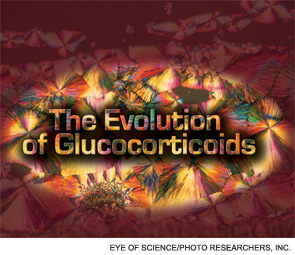 ATLANTA—In a densely packed lecture at the 2010 ACR/ARHP Annual Scientific Meeting, George P. Chrousos, MD, of the Athens University Medical School (AUMS) in Athens, Greece, mapped our expanding knowledge of glucocorticoids, their mechanisms of action, and regulatory effects on the body [Note: This session was recorded and is available via ACR SessionSelect at www.rheumatology.org.].
You Might Also Like
Explore This Issue
February 2011
Also By This Author
Dr. Chrousos, this year's Hench Lecture Award recipient, is chair of the Department of Pediatrics at AUMS, and previously was chief of the Pediatric and Reproductive Endocrinology Branch of the National Institute of Child Health and Human Development. He also holds a professorship in Pediatrics at Georgetown University and is one of the world's preeminent authorities on the hypothalamic-pituitary-adrenal (HPA) axis, most notably its relationship to stress-induced pathology.
ADVERTISEMENT
SCROLL TO CONTINUE
Accepting the plaque from the Hench Society, Dr. Chrousos said he was honored to be giving a lecture in Dr. Hench's name. "I would call Philip Showalter Hench a benefactor to the world," he remarked, referring to Hench's discovery, with Drs. Edward C. Kendall and Tadeus Reichstein, of cortisone and its healing powers, for which they were awarded the 1950 Nobel Prize in Physiology or Medicine.
Astounding Numbers, Variety
Dr. Chrousos began his lecture by placing glucocorticoids within the context of evolution. Glucocorticoids are steroid hormones that exert their actions through specific receptors, multifunctional domain proteins that operate as ligand-dependent transcription factors.1 These hormones are major adaptive response mediators whose signaling system interacts with other cell signaling systems, and which are essential for maintaining the homeostasis of many of the body's complex functions, including immune and stress responses. Glucocorticoid receptors (GRs) belong to a class of nuclear receptors generated approximately 400 million years ago from duplications of two ancestral genes, those of the estrogen and the corticosteroid receptors; the latter finally evolved into the glucocorticoid and the mineral corticoid receptors.
ADVERTISEMENT
SCROLL TO CONTINUE
Discoveries about glucocorticoid signaling mechanisms in the past 15 years now necessitate a broader view of these vital hormones and their key roles in the body. "You have to think of the human organism as a collection of different tissues that can respond differently to glucocorticoids, either in a glucocorticoid-hypersensitive or -resistant fashion," Dr. Chrousos noted. Indeed, his earlier work identifying the familial or sporadic generalized glucocorticoid resistance (Chrousos) syndrome has served as a model for subsequent studies investigating the diverse roles that these steroid hormones play in the regulation of several thousand genes in a cell, representing up to 20% of the expressed genome.2