* Conflation of a title ["Pisetsky's Rules vs. the Peltzman Effect"] in Dr. Pisetsky's July 2009 "Rheuminations" column.
You Might Also Like
Explore This Issue
December 2011
Also By This Author
If you're a scientist who has the opportunity to do nonscience writing, it's an unbelievable luxury," says David S. Pisetsky, MD, PhD, professor of medicine and immunology at the Duke University Medical Center in Durham, N.C., and chief of rheumatology at the Durham VA Medical Center. A consummate scientist and physician—a dual appellation that "still gives him a thrill"—Dr. Pisetsky also relishes the writing craft, a discipline to which he has brought heart and mind for almost 20 years.1
ADVERTISEMENT
SCROLL TO CONTINUE
During that time, through short-story and first-person pieces, he honed his style and voice.2 Then, during his time as editor of Arthritis & Rheumatism (A&R) from 2000–2005, he also began writing more scientific editorials and commentaries. His reasons, he says, were to draw attention to and make the scientific work engaging. "Science writing is (necessarily) the driest writing in the world," explains Dr. Pisetsky. "When you write for scientific journals, you cannot put emotion into your words. Instead of 'dramatic increase,' you must write 'a two-fold increase.'"
So it's no wonder that, just as he was finishing his tenure as editor of A&R, his interest was piqued by the ACR's plans to start a news publication. The opportunity to be the launch editor for The Rheumatologist (TR)—and to write monthly columns as physician editor—was akin to being "a kid in a candy shop," says Dr. Pisetsky.
ADVERTISEMENT
SCROLL TO CONTINUE
He decided to apply, with the encouragement of Shawn Morton, vice president and publishing director, medicine, at Wiley-Blackwell in Hoboken, N.J., the ACR's publishing partner on A&R, TR, and Arthritis Care & Research. The two had worked closely on A&R, and Morton felt that Dr. Pisetsky would be the perfect choice for TR's first editor. "He already had a journalistic sense," notes Morton. "At the ACR meeting in San Diego in 2005, I told him that I had a script but I needed a leading man before I could begin shooting."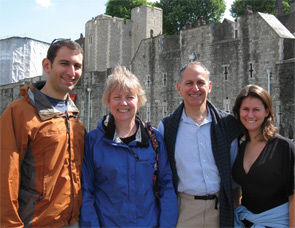 The Pisetsky family during a visit to the Tower of London: (left to right) son Mike, wife Ingrid, Dr. Pisetsky, and daughter Emily.
Dr. Pisetsky went through the ACR's application process, was appointed to the post, and then worked with the editorial staff in Hoboken to finalize a plan for the new magazine, including the layout and design. Dawn Antoline, the Wiley-Blackwell editor who has worked with Dr. Pisetsky on TR since 2006, says that, "in addition to being incredibly knowledgeable, Dr. Pisetsky is very creative, and he embraced every aspect of TR, from picking article topics and editing to writing and selecting the art for each issue. He has been wonderful to work with and has left his mark on the publication." Since 2006, readers have looked forward each month to his column, dubbed "Rheuminations," on a wide range of topics from drug safety to the giants of medicine.3,4 He's brought more than lively, entertaining, and clear-voiced monthly columns to TR. The general consensus from colleagues, the ACR, and Wiley's editorial staff is that he's put the "Pisetsky stamp" on a magazine whose table of contents reflects his scientific curiosity, openness, and accessibility.
ADVERTISEMENT
SCROLL TO CONTINUE
"Quite simply, I don't think we could have chosen a better first editor for our publication," says David G. Borenstein, MD, immediate past president of the ACR, TR editorial board member, and clinical professor of medicine, division of rheumatology at The George Washington University Medical Center in Washington, D.C. "[Dr. Pisetsky] has really given this publication a personality, a character that I think was unique, in that people were looking forward to the issues as they came out."
What Will You Do Next?
An investigator known for his pioneering work characterizing the anti-DNA antibody response in systemic lupus erythematosus, Dr. Pisetsky also discovered the existence of antibodies to bacterial DNA in the normal population; these findings led to subsequent work to identify the mitogenic activity of bacterial DNA and its potential in inducing autoimmunity.
In addition to his research background, Dr. Pisetsky brought a host of talents to the new publication. He praises the exceptional quality of the science and clinical review articles in TR, which form the core of every issue. As he approached potential contributors, Dr. Pisetsky saw an additional opportunity to render their articles more engaging. "There's often a tendency at the end of clinical trial articles or reviews to conclude with the phrase, 'More studies are needed,' " he reflects. "I encouraged the scientists and clinical investigators to write in a different way. I told them I wanted them to be personal and accessible. And I wanted them to address what they would be doing tomorrow. That was fun for me."
Dr. Borenstein says, "The quality of those scientific articles represents some of the best available on the topic [such as the front-page article on CNS vasculitis in the September 2011 issue]." He also appreciates the practical aspects brought into the scientific articles: "I understand evidence base—I don't want to throw that out—but I also want to know, How do you deal with these patients, and what issues do you need to think about? This is the component of those articles that make them practical to people who see patients."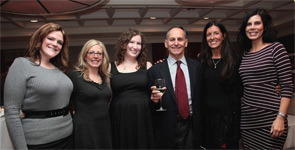 The TR team at a reception for Dr. Pisetsky at the 2011 ACR/ARHP Annual Scientific Meeting in Chicago. Pictured left to right: Erin Latimer, ACR director of public relations ; Michelle Hatch, ACR director of communications and marketing; Dawn Antoline, Wiley-Blackwell editor; Dr. Pisetsky, physician editor; Liliana Estep, art director; and Tammy Tilley, ACR senior director of communications and marketing.
Most General of All Specialties
In article selection, Dr. Pisetsky has always strived for a broad range of subject areas. That's because rheumatology encompasses many different specialties. "In some respects, we are generalists for a group of diseases that has been unified into a specialty, making us the most general of all specialties," he notes. "I think part of being a rheumatologist in general is to form alliances with other specialties in a way that you can engage in a dialogue about how best to manage or study patients with complicated and often multisystem diseases. We're very eclectic by nature."
"I'm very appreciative of the fact that he realizes our subspecialty needs to be as broad as possible," agrees Dr. Borenstein.
"TR is very much a reflection of both David's rather interesting take on the world around him and how rheumatologists have an oft-times unique vision of the world," remarks Bruce N. Cronstein, MD, Paul R. Esserman Professor of Medicine and director of the Clinical and Translational Science Institute at NYU School of Medicine in New York City. A frequent contributor to the magazine, Dr. Cronstein appreciates the editorial shaping his pieces receive.
Inclusive and Multidisciplinary
"David has maintained a good balance of articles and reviews in an effort to keep clinicians updated with the latest developments in treating people with a rheumatologic diagnosis," points out Gail C. Davis, RN, EdD. As the ARHP representative to the TR editorial board, she has been pleased with the scope of articles, which have included topics of interest to both physicians and health professionals who work in rheumatology. And, she adds, his editorial advice on articles she's written has always been "right on."
This, too, has been a deliberate effort on Dr. Pisetsky's part. "I always thought this was a great place to get ARHP content out to readers," he says. "ARHP comprises an extraordinarily diverse group of people, and sometimes their work does not appear in arthritis journals." Dr. Pisetsky had no formula for balancing content, but rather used his own curiosities as a gauge. He went after content by attending presentations at national meetings, and then approached presenters to contribute to TR. "It's very important in practice to know what people in other disciplines are doing," he maintains.
Contributors Encouraged
Richard Panush, MD, professor of medicine in the division of rheumatology at the department of medicine at Keck School of Medicine at the University of Southern California in Los Angeles, has been aware and in admiration of Dr. Pisetsky's scientific work for a long time, he says. The two also have collaborated—Dr. Pisetsky was a visiting professor during a humanities program for medical residents that Dr. Panush started while at the Saint Barnabas Medical Center at the University of Medicine and Dentistry of New Jersey–New Jersey Medical School in Livingston. Dr. Pisetsky was also an associate editor for the 1999 Yearbook of Rheumatology when Dr. Panush edited the tome. When Dr. Panush wanted to reprise those efforts—of writing in an engaging and informative way about the current literature—he pitched Dr. Pisetsky on the idea. The result was Dr. Panush's monthly column, "Rheum with a View." Reflecting on this experience, Dr. Panush notes, "David has been supportive, critical when he needed to be, helpful in his seriousness and attention to detail. It's been great fun."
For his part, Morton says, "I've been working with him for 10 years now and will miss very much working with him in this role. He's got a great journalistic sensibility and is a truly great human being," he notes.
Antoline notes that, "one of the things I will miss is our monthly art calls, where the TR team—Dr. Pisetsky, Art Director Liliana Estep, and ACR Director of Communications and Marketing Michelle Hatch, and I—would brainstorm and select the images for each issue. This was where science met art and the publication took shape—and they were fun, too!" she says.
"The publication will be shaped by the subsequent editors," notes Dr. Cronstein, "but I think that David very much gave it a rather worldly sense. TR is very different from any of the other things we normally see published, either by the ACR or by most other professional physicians' organizations."
Dr. Pisetsky's advice to the incoming editor, Simon M. Helfgott, MD? "Be open-minded and curious about what's going on and see what you find interesting." And above all, "Have fun!"
Gretchen Henkel writes the "Metrics in Rheumatology" profile series. Working with Dr. Pisetsky has been a gratifying experience, she says: "His encouragement and intelligent shaping of material are rare—and much appreciated—qualities in an editor."
References