Honestly, I'm not sure why I bothered to listen.
You Might Also Like
Explore This Issue
September 2018
Also By This Author
I was in my kitchen, early on a Saturday morning, with the radio keeping me company. It started with the news and the usual litany of tragedies, both major and minor, that comprise such programs. The news gradually faded into other programming, which I can no longer recall; honestly, I was using the radio for background noise, like elevator music for the tone deaf.
ADVERTISEMENT
SCROLL TO CONTINUE
Then it hit me: I was listening to a story on sperm donation.
I normally would have just turned off the radio—I'm not a prude, I just tend to avoid listening to stories about medical topics. It's too much like work. Worse, it is difficult to turn the doctor part of my brain off, so I create a running critique, as if the reporter were a medical student in one of my classes, and I was grading his report.
ADVERTISEMENT
SCROLL TO CONTINUE
But my hands were full, and I was distracted, so the story gradually crept into the outer boundaries of my conscience, like an earworm or the latest summer hit, until I was hooked.
He started to donate when he was in college. Outside the pocket change he earned, he thought of it as a civic duty. To each, according to their need; from each, according to their ability.
Decades later, he started to learn how successful his contributions were. At last count, he has met 14 of his progeny. Men are apparently more reluctant to reach out than women, so he is expecting a second wave of children to emerge at some point.
ADVERTISEMENT
SCROLL TO CONTINUE
He notes there was no instantaneous connection when he met his progeny. Of course, there were physical similarities; for example, he noticed that many of his offspring had the same flecks of color in their eyes. More surprising to me was another observation: They could all sing.
The father relates a story of how he met his daughter: Not knowing anything about her, he decided to take her to a karaoke bar, which he thought represented neutral territory. While he was singing, he noticed his daughter starting to cry. She later explained that she was raised in a tone-deaf family. Her ability and love of singing had made her feel out of place her entire life.
At first, this doesn't seem any more remarkable than passing along the color of his eyes. It seems to make sense that the ability to sing might also be genetic. But take a moment to think about how complex this trait must be—the ability to hear a melody, internalize the notes and rhythm, and then reproduce both, must be as complicated as learning a language. That said, everyone speaks some language; not everyone can sing.
Siblings & Other Forms of Torture
"Only if you have an older brother who tortured you when you were a kid," is my standard reply.
Seeing a large number of patients with systemic vasculitis, I have come to anticipate the questions that patients will kick themselves for not having asked. In French, they talk about l'esprit d'escalier—the witty remark that comes to mind as you are on the staircase, taking your exit from the party. I guess this is more like l'esprit de voiture—the comment or the question that comes to mind only when the patient dissects their clinic visit with me on the long car ride home.
One of the unasked questions I try to answer in advance is the risk that might be conferred to one's children. In the modified Kübler-Ross stages of coming to terms with a chronic illness, the step right before acceptance is guilt—either over what the patient did to give themself this diagnosis or whether the sins of the father might truly be visited upon the children.
With regard to the former, I spend a large amount of time reassuring patients that I have heard it all: I just got married. I just got divorced. I just moved from California. My mother just passed. I think my house might have toxic mold. Everyone has a theory about why they developed systemic vasculitis, and like snowflakes, each one is unique and ephemeral. Some exposures have been linked to an increased risk of developing certain types of vasculitis, but in general, my patients haven't read those papers and cite more workaday concerns. In general, I tell them that even if they are correct, and it was the exposure to dirty pool water that started their descent, that bell can't be unrung.
I find that patients breathe the biggest sigh of relief when I tell them that close relatives—children, grandchildren—are generally not at higher risk of developing a systemic vasculitis, and I wouldn't recommend any special screening or avoidance of certain foods or treating them with kid gloves in any way.
I say this largely based on a study that used the Swedish national registries to identify almost 2,000 Swedish patients with granulomatosis with polyangiitis (GPA) and their 6,670 first-degree relatives and 428 spouses. Only 0.02% of the first-degree relatives (and 0% of the spouses) also had GPA.1 Although this doesn't necessarily prove the case for all forms of vasculitis, until I see data to the contrary, I tell my patients not to worry. Unless, of course, they have an older brother who tortured them when they were a kid. In which case, what's the point of having a rare disease if you can't have a little fun with it from time to time?
None of this is to say that genetics does not play an important role in the pathogenesis of the anti-neutrophil cytoplasmic antibody (ANCA) associated vasculitides. My heritage is Korean, for example, and by virtue of that fact, I am unlikely to ever be diagnosed with GPA (although I am subject to a host of other, equally inconvenient, diseases).
In 2012, a seminal study by Lyons et al. proved that point. By conducting a genome-wide association study of
1,233 patients in the United Kingdom, they were able to find both major-histocompatibility-complex (MHC) and non-MHC associations for both GPA and microscopic polyangiiits.2 The fact that these associations were disease specific seems to answer, once and for all, whether microscopic polyangiitis is just a forme fruste of GPA: It's not. But it failed to answer why children won't inherit a parent's diagnosis of GPA, but they can inherit their ability to sing.
MHC associations have been identified in a wide range of systemic vasculitides, including giant cell arteritis, Takayasu's arteritis, IgA vasculitis and Behçet's disease.3-5,10 None of this information, however, informs my daily practice. In general, I am ignorant to the genetic background of my patients, and even if I had that information in hand, I would not know what to do with it. So why keep looking?
Refractory Rheumatic Disease
Nothing in clinical trials of ANCA-associated vasculitis is more predictable than failure. No matter what the intervention, approximately 15–20% of patients will relapse after two years. The same is basically true for rheumatoid arthritis. No matter how low the bar, at least 20% of patients will fail to respond to any given intervention.
Admittedly, in the post-tumor necrosis factor (TNF) era, even the low bar is set relatively high—most clinical trials enroll patients who have already failed to respond to an anti-TNF; any therapeutic low-hanging fruit has already been plucked. Even given that, there seem to be some patients who don't respond to drugs as they should. We have all been there—when you find yourself prescribing the next biologic alphabetically rather than based on mechanism. Statistically, 20% of patients will be treated with at least three biologic agents before their doctor finds a drug that works for their disease. In clinical trials, over 70% of patients will fail to have a meaningful response to a second biologic, after having failed to respond to an anti-TNF. What makes these patients different from the rest?
In her recent editorial in Annals of the Rheumatic Diseases, Professor Maya H. Buch of the Leeds Institute and Musculo­skeletal Medicine outlines a few possibilities, including the following:6
Innate vs. adaptive: myeloid-predominant vs. lymphoid-driven pathophysiology;
Autoimmunity vs. autoinflammatory: antibody vs. non-antibody-mediated disease; and
Stromal response: Exposure to drug modifies the disease.
Outside the observation that these patients exist, there is almost nothing known about them. Thus, the definition of refractory rheumatoid arthritis is, necessarily, pragmatic: Professor Buch suggests failure of at least one anticytokine and one cell-targeted biologic disease-modifying anti-rheumatic drug should qualify a patient for this sobriquet. Of course, the trouble is that clinically, it can take up to a year to determine whether a patient has refractory disease, and even longer to figure out the right drug or drugs to bring the disease under control. There has to be a better approach.
Clearly, this [tumor agnostic] approach will turn into either the Facebook or the MySpace of the oncology world, & it is a little too early to say whether this approach will turn out to be the gamechanger we are all hoping for.
Agnosis as a Good Thing
In June 2017, the U.S. Food and Drug Administration granted accelerated approval to pembrolizumab for the treatment of adult or pediatric patients with metastatic or unresectable solid tumors that are microsatellite instability high, meaning they have an impaired ability to repair DNA mismatch mutations.7 In theory, because of the increased rate of DNA mismatch repair defects, these tumors produce a large number of neoantigens, which could be targeted by immune checkpoint inhibitors. Of the 149 patients enrolled across five clinical trials, 39.6% had a complete or partial response to this drug. This doesn't seem terribly remarkable, until you realize that all these patients had in common was their genetics. Patients who received treatment with pembrolizumab had a range of tumors, including colorectal, endometrial, pancreatic and other gastrointestinal cancers.8 It didn't matter what type of cancer you had; your genetics predicted your response.
This was the first step toward the tumor agnostic approach to oncology you have been reading about over the past year. One such drug has already received FDA approval, one is currently under consideration by the FDA, and 10 more are under development by eight companies.9
Clearly, this approach will turn into either the Facebook or the MySpace of the oncology world, and it is a little too early to say whether this approach will turn out to be the game changer we are all hoping for. There are certainly naysayers, who believe the success of this approach relies on an unusual confluence of circumstances that is unlikely to be generalizable. Others cite unpublished data that will never make the light of day because they failed to make this approach work.
Of course, the question will be empiric: The approach will either work, or it won't, and a decade from now, we will be reading the editorials that expound on why we should have known how this story would play out.
In the meanwhile, one wonders what lessons this experience will have for our community. Decades ago, it was Anthony Fauci who appropriated cyclophosphamide from the oncologists, because he noted the sheets of inflammatory cells he saw in patients with GPA looked a lot like lymphoma.
In the next epoch, we can hope that genetic studies will lead to new targets and new approaches that will allow us to approach treatment based on the molecular, rather than clinical, phenotype. Already, genes have been identified that appear to play a crucial role in multiple forms of rheumatic disease.11 It's hard not to wonder how many of those genes might be involved in those 20% of patients who appear to have refractory rheumatoid arthritis or refractory GPA and how many of them simply need a new approach. The identification of somatic mutations in our patients with refractory inflammatory diseases may demonstrate that they share more in common with each other than with the patients with whom they are currently grouped. Gene editing may provide yet another avenue for treatment of thus far untreatable inflammatory disorders.12
At the end of the day, the genetics underlying rheumatic disease will not be as simple as the genetics of eye color, hair color or even the ability to sing. The absence of a stronger familial component implies as much. But the absence of a recognizable melody doesn't mean it's not out there; it just means we have to listen a little harder.
---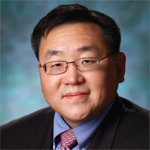 Philip Seo, MD, MHS, is an associate professor of medicine at the Johns Hopkins University School of Medicine, Baltimore. He is director of both the Johns Hopkins Vasculitis Center and the Johns Hopkins Rheumatology Fellowship Program.
References