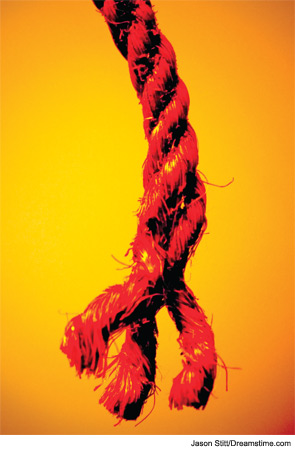 The combined forces of rheumatologists; technology, tools, treatments; and patients create a powerful three-fold cord to fight rheumatic disease.
Proverbs endure because they assert eternal truths. One such saying from an ancient Hebrew book has been frequently quoted by Christian, Jewish, and worldly authors for centuries. There seem to be endless applications of it, which only serve to substantiate its veracity.
"And if one can overpower him who is alone, two can resist him. A cord of three strands is not quickly torn apart."—Ecclesiastes 4:12.
ADVERTISEMENT
SCROLL TO CONTINUE
Examples of the proverbial "three-fold cord" in literature, religion, and life seem unlimited: the Christian Trinity; the Hebrew Patriarchs; the three American branches of government; the Three Musketeers; J.K. Rowling's Harry, Hermione, and Ron; mind, body, and spirit; Pascal's triangle; id, ego, and superego. There are even books about the importance of threes, rules of three, and the rule of thirds.
According to the proverb, an individual is not very powerful because he is easily overwhelmed by an opponent. Together, two can begin to resist an adversary. However, three become a force to be reckoned with. Let us consider how the proverbial three-fold cord applies to rheumatology.
ADVERTISEMENT
SCROLL TO CONTINUE
The First Thread: The Rheumatologist
Rheumatologists select a challenging profession which is noble if only because of the daunting nature of the diseases they treat. Rheumatologists are the doctors who have committed to not flee through Sir William Osler's notorious "back door" when people come to call with cruel conditions that involve arthritic symptoms.1 Rheumatologists have chosen to treat some of the most difficult-to-treat diseases that humanity faces.
For most of its history, rheumatology had an impossible task: soothe the suffering from ruthless incurable diseases like rheumatoid arthritis, lupus, and ankylosing spondylitis.
The Second Thread: Technology, Tools, and Treatments
Increasingly, resources have emerged to allow rheumatologists to actually begin to fight these diseases. With newer therapies and tools, rheumatologists are now able to offer patients hope of managing, or at least curbing, rheumatic diseases to some degree. This second thread strengthens the position of rheumatology. As the ancient proverb suggests: "two can resist." Increasing and improving the resources in the hands of rheumatologists is an obvious way to improve care and outcomes in rheumatology. Funding for research must be increased, therapies must be improved, and the unwavering objective must be innovation. Collectively, these make "resisting" rheumatic diseases more achievable.
ADVERTISEMENT
SCROLL TO CONTINUE
Adding a Third Thread: Patients
Patients are the third thread to create an unbreakable cord in rheumatology. Certainly, there have always been patients in rheumatology as objects of study or care. However, patients are also participants in advancing rheumatology care and research. The notion of patients as a collective resource has gained prominence in various specialties over the last few years. "Shared decision making" is also more common as individual patients now partner with their medical caregivers.