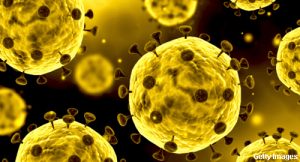 ACR CONVERGENCE 2021—Rheumatology patients who test positive for COVID-19 would benefit from early use of monoclonal antibodies, said Luis Ostrosky-Zeichner, MD, chief of the Division of Infectious Diseases, McGovern Medical School, University of Texas Health Science Center (UTHealth), Houston, in a session about effective treatment options for COVID-19.
You Might Also Like
Also By This Author
Acknowledging that the SARS-CoV-2 virus has already killed millions of people worldwide, Dr. Ostrosky-Zeichner said, "This is a history-changing pandemic." Scientists have learned a great deal about SARS-CoV-2 over the past two years, and this growing body of knowledge has helped contain the spread of the virus and save lives.
ADVERTISEMENT
SCROLL TO CONTINUE
About the Virus
Public health officials now know, for example, that the virus has a 2–14-day incubation period, and although there is some long-term shedding of the virus, patients are not infectious beyond 10–20 days. Asymptomatic patients can, however, spread the virus.
SARS-CoV-2 is spread person-to-person via droplets, which makes it less transmissible than it would be if it were truly airborne. Its maximum environmental survival is two to four days, but surfaces are not a common route of transmission. Moreover, it is susceptible to common disinfectants.
ADVERTISEMENT
SCROLL TO CONTINUE
According to Dr. Ostrosky-Zeichner, people who have underlying medical conditions, including cancer and chronic kidney or lung disease, are immunocompromised, and the elderly have a higher incidence of mortality from COVID-19. Racial and ethnic minorities also have a higher risk of mortality.
The good news: Vaccines are highly effective in preventing infection from most variants, as are masking and social distancing. Moreover, early therapy improves outcomes.
Dr. Ostrosky-Zeichner explained that experts still have a great deal to learn about relapse, reinfection, immunity and variants. "Currently, the CDC [the Centers for Disease Control and Prevention] does not recommend making any clinical decisions based on antibodies," he said.
ADVERTISEMENT
SCROLL TO CONTINUE
Dr. Ostrosky-Zeichner next presented a 2020 paper from the CDC that proposed a framework and timeline related to the spectrum of disease due to SARS-CoV-2.1 The paper described how COVID-19 morbidity includes an acute infection phase, post-acute hyperinflammatory illness and late sequelae. The three stages describe the temporal course of SARS-CoV-2 infection at the population level, as well as distinct phases of host viral interactions. Individuals may experience any combination of these phases or have an asymptomatic infection.
"The severity of illness is very acute initially," explained Dr. Ostrosky-Zeichner. The first phase is the best characterized of the three illness periods, and patients often experience cough, fever and dyspnea. Some adults and children go on to experience a rare, multi-system inflammatory illness that includes prominent cardiovascular and gastrointestinal manifestations.2
CDC Treatment Guidelines
Dr. Ostrosky-Zeichner then discussed the National Institutes of Health (NIH) COVID-19 treatment guidelines for the management of non-hospitalized patients. "The cornerstone of management of this initial stage is the use of monoclonal antibodies," he explained, adding that "there's no evidence that starting corticosteroids in outpatients as a primary therapy is beneficial."
He presented data from his institution's COVID-19 monoclonal antibody program, saying that monoclonal antibodies are "a very effective and cost-effective intervention." He noted that rheumatology patients who test positive for COVID-19 would benefit from early use of monoclonal antibodies, and he encouraged the use of monoclonal antibody therapy as prophylaxis in rheumatology patients if someone in the patient's family has tested positive for COVID-19.
Editor's note: On Dec. 8, the FDA authorized long-acting monoclonal antibodies (i.e., AstraZeneca's Evusheld [tixagevimab co-packaged with cilgavimab and administered together]) for the pre-exposure prophylaxis (prevention) of COVID-19 in certain adults and pediatric individuals (12 years of age and older weighing at least 40 kgs [about 88 lbs]). The product is authorized only for those individuals who are not currently infected with the SARS-CoV-2 virus and who have not recently been exposed to an individual infected with SARS-CoV-2. The authorization also requires that individuals either have: moderate to severely compromised immune systems due to a medical condition or due to taking immunosuppressive medications or treatments and may not mount an adequate immune response to COVID-19 vaccination (examples of such medical conditions or treatments can be found in the fact sheet for healthcare providers) or; a history of severe adverse reactions to a COVID-19 vaccine and/or component(s) of those vaccines; therefore vaccination with an available COVID-19 vaccine, according to the approved or authorized schedule, is not recommended.
What not to do: "We do not recommend giving vitamins or supplements," Dr. Ostrosky-Zeichner said. He also pointed to the NIH COVID-19 treatment guidelines, which state that there are insufficient data for the COVID-19 guidelines panel to recommend either for or against the use of ivermectin for the treatment of COVID-19. In addition, Dr. Ostrosky-Zeichner noted that "there is not enough evidence to suggest that convalescent plasma is beneficial for patients."
Dr. Ostrosky-Zeichner also reviewed the NIH COVID-19 treatment guidelines for the management of hospitalized patients. "There are some patients who will benefit from remdesivir, which is the only antiviral approved for COVID-19 right now," he said. These include patients who are hospitalized and require supplemental oxygen.
Patients who are hospitalized and require invasive mechanical ventilation (IMV) and extracorporeal membrane oxygenation (ECMO) will need immune modulation with dexamethasone. Dr. Ostrosky-Zeichner acknowledged that other glucocorticoids would also likely be effective, but he noted that dexamethasone has demonstrated efficacy in clinical trials of COVID-19 patients.
According to Dr. Ostrosky-Zeichner, "thrombosis is part of the pathogenesis of this disease." Patients should therefore be screened for venous thromboembolism. In addition, clinical trials are currently underway to examine the role of anticoagulation in non-hospitalized patients.
Pharmaceutical companies are also in the process of developing additional antivirals. For example, molnupiravir, developed by Merck would, if approved, be the first oral agent with an indication for the treatment of COVID-19. Pfizer also announced that it's seeking emergency use authorization for an antiviral.
Long COVID
Dr. Ostrosky-Zeichner introduced the long-term effects of COVID-19, noting, "This is going to be a new branch of medicine." These long-term effects include fatigue, neurological problems, gastrointestinal problems and brain fog, the last of which, he says, is present in 80% of patients with long COVID.4
In addition, many individuals are diagnosed with diabetes or vascular disease following SARS-CoV2 infection, suggesting these diagnoses may also be aspects of long COVID.
A multidisciplinary approach, such as they have at UTHealth, benefits patients with long COVID, said Dr. Ostrosky-Zeichner, because it includes a team of specialists and focuses on the whole patient. He emphasized the importance of having rheumatologists on the treatment team especially because patients may be diagnosed with reactive arthritis, fibromyalgia and connective tissue disease. He has also seen patients present with inflammatory arthritis flares after COVID-19.
Although the medical community still knows very little about long COVID, there is a bright spot: "Some early data indicate that people with long COVID symptoms tend to improve when they are vaccinated," he said. "There appears to be a beneficial effect."
Dr. Ostrosky-Zeichner concluded his presentation by calling for continued masking.
---
Lara C. Pullen, PhD, is a medical writer based in the Chicago area.
References