On the way to and from the exam room, try to walk alongside the individual or couple—not behind or in front;

Check your assumptions at the exam room door. We all have differing views on heterosexuality, monogamy, celibacy in single women and the importance of sex;

Address anxieties first. For example, you can say: "Many people experience this …";

Don't underestimate the importance of education, including terminology, anatomy and specific facts about sex and the body;

Conducting a physical exam can reveal potential complications for sex and intimacy;

Complete a psychosocial history slowly, over several meetings; and

Include grief work over what's been lost.4
10. Believe in the importance and value of what you're doing. For a subject that's so relevant to our patients' lives, health and well-being, sexual health is one of the least discussed areas of health. Intuitively, we may know there's a need for intimacy among partners, yet it can be hard to know what to say and when to say it. It can also be hard to be a good listener, and it can be hard, sometimes, to know how to receive what we hear.
You Might Also Like
Explore This Issue
May 2021
Each patient is an individual, and each individual has a personal and particular relationship to the world at large. As healthcare providers, we can help each person best by making them feel they can talk to us without fear of judgment, misunderstanding or rejection.
ADVERTISEMENT
SCROLL TO CONTINUE
---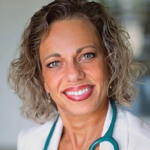 Iris Zink, RN, ANP, RN-BC, has been a rheumatology nurse practitioner for 21 years. She founded and runs Lansing Rheumatology, the first early arthritis intervention clinic in Michigan, to provide access to care for individuals who are under- or uninsured. In December 2020, Ms. Zink and Jenny Thorn Palter published their book, Sex—Interrupted: Igniting Intimacy While Living with Illness or Disability.
Acknowledgment
ADVERTISEMENT
SCROLL TO CONTINUE
The author thanks Jenny Thorn Palter, former editor of Lupus Now magazine, published by the Lupus Foundation of America, for her invaluable assistance on the development of this article.
References