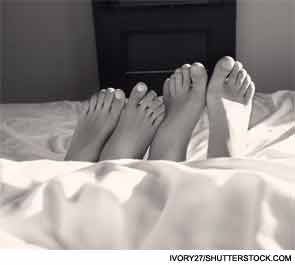 "How's your sex life?" That's a question rheumatologists should be asking their rheumatoid arthritis (RA) patients regularly.
More than half of all RA patients have difficulties with sex, says Alex Shteynshlyuger, MD, a New York City urologist. Yet sex doesn't always get the attention from rheumatologists that it deserves.
The problem is not simply pain. Myriad issues interfere with patients' ability to enjoy sex: fatigue; mechanics; drugs that dampen the libido, suppress the secretion of natural lubrication or interfere with fetus development; self-esteem issues that arise from the ravages of chronic disease; depression and more.
Moreover, "It's not like this is a problem you actually solve," says Mariah Z. Leach of Louisville, Colo. Leach writes a personal blog on her life with RA. She married and bore a child after she was diagnosed with RA, and a second child is on the way as of this writing. "[The ability to enjoy intimacy] goes up and down based on how you are doing."
Rheumatologists can do much to help their patients, and when they can't help them directly, they can refer them to other providers with different expertise, such as physical or sex therapists.
"With adjustments, a sexual relationship can be healing—for both the body and the mind," says Diana Wiley, PhD, a Seattle-based sex therapist.
Barry R. Komisaruk, distinguished professor, department of psychology, and adjunct professor, radiology, Rutgers University, Newark, N.J., has conducted studies, which showed that arthritic and other forms of pain in women are mitigated by vaginal and cervical self-stimulation, with no reduction in sense of touch. Nonsexual self-stimulation boosted pain thresholds by 50%; pleasurable self-stimulation by 75% and (self-induced) orgasm did so by more than 100%. Komisaruk is now conducting brain-imaging studies to track the neural pathways of genital stimulation leading to orgasm and pain blockage.
The Obstacles
The first problem rheumatologists face in helping patients with issues of sexuality is that "Patients will not even bring up the fact that they have urinary incontinence, let alone sexual issues," says Maureen K. Watkins, DPT, an assistant clinical professor, department of physical therapy, at Northeastern University, Boston.
Sometimes, rheumatologists forget to ask about sex, says Julie S. Schwartzman-Morris, associate professor of medicine, department of medicine, rheumatology, North Shore University Hospital, Hofstra School of Medicine, Manhasset, N.Y. "In addition to asking the typical sex questions—about sexually transmitted infections and complications—I have to remind myself and my trainees to ask about problems in sexuality."