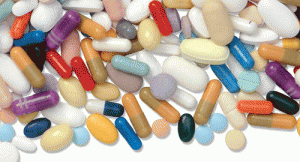 Tofacitinib on Hold for Plaque Psoriasis
According to Pfizer, the U.S. Food and Drug Administration (FDA) has not yet decided to approve tofacitinib to treat adults with moderate to severe plaque psoriasis.1,2 Tofacitinib citrate is an oral janus-associated kinase inhibitor, which was FDA approved in 2012 for treating moderate to severe rheumatoid arthritis. A complete response letter recommending additional safety analyses for psoriasis patients treated with the agent was sent from the FDA to Pfizer in October.2
Anti-TNFs Top the ISMP List of Drugs with Serious Adverse Events
According to Institute for Safe Medication Practices (ISMP), adalimumab ranked No. 1 and etanercept ranked No. 2 for new adverse events reported to the FDA in 2014—with 46,937 adverse event reports for adalimumab and 38,929 for etanercept.3 In the subset of serious adverse events, these two anti-TNF agents also ranked at the top: Etanercept ranked No. 1 (n=7,753) and adalimumab ranked No. 2 (n=6,081).
One thousand six hundred four drugs were reported to the FDA, with a mean of 37 reports made per drug. Only 168 drugs had more than 1,000 reports. Therefore, the numbers for reported adverse events for these anti-TNF agents is significant.
For the category of expedited reports of new serious adverse events without full warnings in the prescribing information, etanercept ranked No. 1 and adalimumab ranked No. 2, accounting for the most expedited reports from pharmaceutical manufacturers about new serious adverse events. Adalimumab and etanercept are the primary suspected drugs in approximately 1,800 patient deaths.
Most reported adverse events were related to the drug's immunosuppressant properties, including invasive fungal and opportunistic bacterial infections, reactivation of the hepatitis virus and cancer. Of serious and fatal injuries reported, 3,298 (26%) of adalimumab cases indicated an infection and 3,982 (32%) of etanercept cases indicated an infection.
The boxed warnings for anti-TNF agents include a cancer risk, and cancer was reported in treated patients in 2014. For adalimumab, 1,410 (11%) cancer cases and 197 cancer deaths were reported. For etanercept, 1,253 cancer cases with 90 cancer deaths were reported.
Hypersensitivity reactions were the third largest group of serious adverse events. One thousand four hundred thirty-eight hypersensitivity reactions were reported for adalimumab and 1,465 hypersensitivity reactions were reported for etanercept. In addition, more than 10,000 injection site reactions that were not considered serious reactions were reported in 2014.
An extensive patient population, numerous toxic effects, intensive product marketing and contacts with patients and healthcare professionals all have contributed to the large number of reports. As clinicians, we need to remain extra vigilant about the potential for serious adverse events in our patients, as well as other reactions that affect patient response. Large numbers of patients are treated with these anti-TNF agents, which are also multi-billion dollar products for their manufacturers. The companies have a vested interest in keeping in close contact with prescribers, other healthcare professionals and patients to keep patients on treatment.