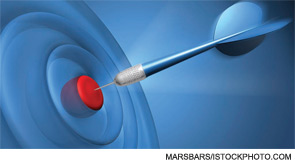 With a target in focus, it's time to start goal-directed treatment of rheumatoid arthritis.
The goal of "treating to a target" is not a new concept in clinical medicine. Indeed, in many specialties, goal-directed treating to target is already the standard. For example, the goal of reducing low-density lipoprotein is widely accepted and followed by cardiologists and primary care physicians (PCPs), as determined by the number of coronary artery disease risk factors present in each patient. The Joint National Commission (JNC) 7 blood pressure guidelines have also been widely adopted by the medical community. Physicians have come to accept that blood pressure must not exceed 140/90 mmHg in "normal" patients, and that blood pressures less than 130/80 mmHg must be targeted in patients with diabetes or chronic kidney disease. Finally, endocrinologists and PCPs alike recognize the importance of achieving a hemoglobin A1C level as close to 6.0 mg/dl as possible, and use this value as an indicator of the success of their therapeutic strategy in achieving "tight" control of the patient's diabetes in the outpatient setting.
At the same time, recent studies of patients with diabetes have shown that pushing for hemoglobin A1C levels less than 6.5 mg/dl in the elderly population may also lead to increased morbidity and mortality. The lesson from these studies is that "treating to target" is beneficial not just to avoid undertreating, but to avoid overtreating as well. It is difficult, however, to define the boundaries of overtreating and undertreating without first setting a target.
ADVERTISEMENT
SCROLL TO CONTINUE
TABLE 1: Recommendations from the International Treat to Target Initiative
Overarching principles:
The treatment of rheumatoid arthritis must be based on a shared decision between patient and rheumatologist.
The primary goal of treating the patient with rheumatoid arthritis is to maximize long-term ,health-related quality of life through control of symptoms, prevention of structural damage, normalization of function and social participation.
Abrogation of inflammation is the most important way to achieve these goals.
Treatment to target by measuring disease activity and adjusting therapy accordingly optimizes outcomes in rheumatoid arthritis.
Ten recommendations on treating rheumatoid arthritis to target based on both evidence and expert opinion:
ADVERTISEMENT
SCROLL TO CONTINUE
The primary target for treatment of rheumatoid arthritis should be a state of clinical remission.
Clinical remission is defined as the absence of signs and symptoms of significant inflammatory disease activity.
While remission should be a clear target, based on available evidence low disease activity may be an acceptable alternative therapeutic goal, particularly in established long-standing disease.
Until the desired treatment target is reached, drug therapy should be adjusted at least every 3 months.
Measures of disease activity must be obtained and documented regularly, as frequently as monthly for patients with high/moderate disease activity or less frequently (such as every 3–6 months) for patients in sustained low disease activity or remission.
The use of validated composite measures of disease activity, which include joint assessments, is needed in routine clinical practice to guide treatment decisions.
Structural changes and functional impairment should be considered when making clinical decisions, in addition to assessing composite measures of disease activity.
The desired treatment target should be maintained throughout the remaining course of the disease.
The choice of the (composite) measure of disease activity and the level of the target value may be influenced by consideration of co-morbidities, patient factors, and drug-related risks.
The patient has to be appropriately informed about the treatment target and the strategy planned to reach this target under the supervision of the rheumatologist.
Source: Ann Rheum Dis. 2010;69:631-637.