Silencing myostatin may serve other useful purposes; it is highly expressed in the synovial tissue of patients with rheumatoid arthritis, and it strongly accelerates receptor activity of RANK-L mediated osteoclast formation in vitro. Interfering with myo­statin by silencing the gene or targeting it via antibody-mediated inhibition reduces the bone destruction observed in certain rodent models of inflammatory arthritis.9 On the other hand, another model of myostatin knockout mice developed more advanced forms of joint damage as they aged.10 Why does biology have to be so complex?
Explore This Issue
May 2016
Also By This Author
Back to Brett
Brett was a mess; he was miserable and in constant pain. Prednisone did not douse the fire. An unexplained elevation of his liver enzymes precluded us from starting methotrexate for several weeks. Luckily, 1998 was the year that the first self-injectable biologic drugs came to market. After some terse interchanges with his insurer, which resisted efforts to have it cover the cost of the drug, he began anti-TNF therapy. Within weeks, Brett's disease achieved a sustained, and what became a permanent, remission. Three weeks before the opening ceremonies, Brett was judged to be well enough to travel to Sydney. With the help of a determined pharmacist and a terrific logistics expert at Federal Express, we figured how to continuously ship his drug to Australia while he competed, because his insurer balked at paying for more than two weeks' worth at a time.
Brett got his wish; he competed in the Olympics, although his boat finished out of medal contention. Over the years, I have seen him a few more times. He has carved out a lucrative career as a yachtsman, racing for a variety of sailing syndicates sponsored by an assortment of wealthy types; Russian and Chinese oligarchs, European royalty and a few plain old billionaires. He missed winning a medal at Sydney, but Brett still struck gold. He got his health back.
ADVERTISEMENT
SCROLL TO CONTINUE
---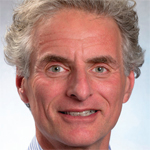 Simon M. Helfgott, MD, is associate professor of medicine in the Division of Rheumatology, Immunology and Allergy at Harvard Medical School in Boston.
References