Sports fans find enormous pleasure in arguing about topics such as the greatest player in baseball, the best heavyweight boxer, or the worst draft pick in the NFL. Most of these arguments cannot be resolved and ultimately do not matter. Nevertheless, the diehards joust with vehemence and passion, especially if fueled by some alcoholic brew.
I enjoy such arguments myself—Was Mantle better than Mays?—but, instead of such traditional subjects for debate, I would like to focus on a serious subject. Which body parts does football damage more? Bones and joints or the brain?
In other words, is the arthritis inflicted by football worse than the dementia?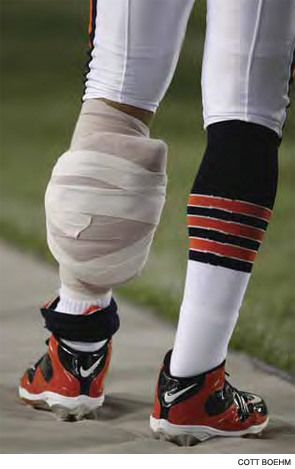 A player wearing an ice pack taped to his leg after an injury.
Measuring Destruction
Admittedly, the question is difficult, but it is serious and real. In actual healthcare, judgments about eventualities require valuation of the number of events, their severity, the extent of disability, and quality-adjusted life-years (QALYs). A person who can't think or can't walk has lost quality of life. It is a philosophical question whether a person who sits in a wheelchair wracked with pain has a lower quality of life than a person who drools while looking blankly at the members of his family whose names he cannot remember—but football can lead to both miserable outcomes.
In the past few years, the impact of football on players' health has received extensive attention, propelled from the sports section to the front page, including the cover of Time magazine. The situation shouldn't be a surprise. Turn on any game and you can witness horrific collisions, the size and speed of pro athletes leading to forces that match those of a bomb explosion. This brutal, smash-mouth game harms brains in terrible ways. While boxers are known to get punch drunk, the fact that football players can suffer the same fate has been treated as a major revelation.
There is growing acceptance that big hits that ring a player's bell or cause cobwebs to accumulate are often really concussions and that, over time, traumatic brain injury can lead to dementia. In boxing, this condition is called dementia pugilistica or chronic traumatic encephalopathy. For pro football players, the increase in dementia can be 20 times that of the general population depending on the age group. About 6% of ex-players age 50 or older develop a form of dementia that can resemble Alzheimer's disease.
The life expectancy of a pro football player is not that great anyway, but dementia is more shocking to the public sensibility than premature mortality. Sadly, the heroics on the gridiron that are supposed to lead to fame, fortune, and beautiful women have a big price—trouble finding words, forgetfulness, and incontinence that can develop just a few years after an athlete has hung up his cleats.
Concern for Heads, But Not Knees
It took some time before the toll of football on the brain became apparent. In general, the studies from the medical literature indicated that the risks of serious head injury were relatively low and that most of those who suffered a concussion had limited short-term problems. In contrast, the personal experience of the family members of pro athletes made the connection between football and dementia clear. Indeed, the wives of the players—not the players themselves—helped sound the alarm, the maimed men too ashamed to reveal their infirmities.