Never underestimate the power of dreams and the influence of the human spirit. … The potential for greatness lives within each of us. —Wilma Rudolph, U.S. Olympic sprinter & winner of three gold medals
Explore This Issue
May 2016
Also By This Author
From Spinnaker to Wheelchair
It can be an unnerving experience when the patient you are about to see is young and wheelchair bound. Because my office is situated just across the hall from our orthopedic colleagues, I often assume that these patients have been wheeled over in error. Although rheumatologic illnesses can rob an individual of their strength and mobility, thankfully, better therapies and advances in musculoskeletal care make this a rare event. Brett, however, had followed the correct coordinates to appear at my doorstep that Friday morning, hours before the start of the Memorial Day weekend, heralding the unofficial start of summer in the Northeast.
ADVERTISEMENT
SCROLL TO CONTINUE
The reason for Brett's immobility became obvious fairly quickly. He had developed an aggressive polyarthritis over the course of just a few weeks, limiting his ability to walk or move about freely. Several fingers and toes were beefy, thick and swollen, confirming why the colloquial term for dactylitis, sausage swelling, is apt. After Brett was told by a local doctor that his failure to improve following a course of oral antibiotics left him with few therapeutic options, except for using more potent intravenous antibiotics, his girlfriend had driven him from his home in Newport, R.I., north to Boston.
Newport is a lovely coastal community and a popular tourist destination renowned for its magnificent mansions that served as the summer "cottages" for the wealthiest of the wealthy, the captains of Wall Street and the industrialists who built America. This is where the Astors, the Vanderbilts, the Morgans and other families of their ilk gathered each summer to relax and play. For many years, its coastal waters served as the site for the America's Cup sailing races, arguably the most patrician of all sporting events in America.
ADVERTISEMENT
SCROLL TO CONTINUE
Brett's look of anguish and despair, the tears welling in his eyes, were understandable. He was in considerable pain. He couldn't move. He could barely look after himself. He needed a bedpan. Who wouldn't be terrified by this whirlwind sequence of events that had abruptly transformed this healthy young guy into an invalid?
I tried to remain upbeat, explaining that his condition was due to an aberrant immune response that needed to be suppressed, not by antibiotics, but by using immunosuppressive drugs. Because none had been tried, there was hope that his reactive arthritis could be tamed if not cured.
Then Brett dropped the bombshell. He had a lifelong dream that required that he get healthy in a hurry. He was a crew­ member of one of the famed Newport sailboats that was going to compete for Olympic gold in Sydney, Australia, a mere 12 weeks away. This was not going to be easy. We had our work cut out for us.
ADVERTISEMENT
SCROLL TO CONTINUE
Recipe for Success
Reaching the pinnacle of elite athletic achievement requires so many variables to be perfectly aligned. Does the athlete have the mental toughness to endure the untold hours of training, frequent misery and considerable personal sacrifice? Physicians may find no story more endearing than the tale of noted British neurologist Sir Roger Bannister, who qualified as a doctor the same year (1954) that he broke the four-minute mile, a barrier that no runner had previously broken. Despite the worldwide acclaim, he was afraid his medical colleagues would not take him seriously and that his athletic recognition would get in the way of his career. Over the years, he downplayed his remarkable athletic achievement and when invitations came to attend major sporting events as an honored guest, including the 1964 Olympics in Tokyo, he quietly declined.1
Toughness aside, an athlete must stay healthy. Countless careers have been derailed by the development of a musculoskeletal issue, some seemingly trivial and others quite serious. Tears of the menisci, muscle, tendons, ligaments, labra and fascia, the body's framework, can dispatch the athlete to the sidelines, often permanently (see "Connective Tissue Disorders Lack Societal Concern, Financial Support," The Rheumatologist, September 2015).
Although their physical prowess and sporting accomplishments often make us forget their vulnerabilities, athletes can become ill. Perhaps the greatest example of a career-ending illness was the diagnosis of amyotrophic lateral sclerosis (ALS) that forced Lou Gehrig of the New York Yankees to end his streak of 2,130 consecutive baseball games played. A powerful hitter, Mr. Gehrig had mysteriously lost his ability at the plate. His batting statistics plummeted, and his strong base running declined overnight. An admission to the Mayo Clinic confirmed the diagnosis of ALS, forcing him to retire at the age of 36. Mr. Gehrig died just two years later.2
Golfer Phil Mickelson developed an acute oligoarthritis while preparing for the 2010 U.S. Open Tournament in Pebble Beach, Calif. His right ankle and right wrist felt quite painful, and within days he developed a dactylitis involving his left index finger.3 Nonetheless, he finished a respectable fourth in the tournament. Days later, after shoulder pain severely limited his swing, Mr. Mickelson sought rheumatologic help. It is public knowledge that he was immediately started on an anti-TNF biological drug, and as his countless television commercials and print advertisements attest, he is back on top of his game.
Because the difference between victory & defeat is often measured in milliseconds, athletes continuously seek the competitive edge that allows them to harness a hidden burst of energy in critical moments when their stamina may be flagging.
Then there is the tale of tennis star Venus Williams. In 2007, Ms. Williams, the winner of seven Grand Slam events, began feeling short of breath. She was diagnosed with exercise-induced asthma, but the prescribed medicine was not helpful. As she recalled: "I'd go to doctors, but I never got any answers, so there was nothing I could do but keep going. It was frustrating, always being in the dark and not having anything to help me but my own will."4 This sounds eerily similar to what we often hear behind closed doors. Although details about her workup are confidential, one might speculate that based on auto­antibody profile results, her rheumatologist considered the diagnosis of Sjögren's syndrome. Ms. Williams says she was relieved to finally hear an explanation for her "swollen hands, chronic fatigue and misshapen joints." Despite her condition, Ms. Williams is currently ranked 12th best in the world at 36, normally considered a senescent age for a professional tennis player!
Gaining a Competitive Edge
Because the difference between victory and defeat is often measured in milliseconds, athletes continuously seek the competitive edge that allows them to harness a hidden burst of energy in critical moments when their stamina may be flagging.
There may be three ways to achieve this goal: first, the legitimate way, through an even more intensive training regimen and, perhaps more importantly, by learning to overcome adversity in their personal lives. An in-depth interview study of British Olympic gold medalists found that adversity-related experiences, such as significant sporting failures, injuries, political unrest and death of a family member, were deemed vital in their psychological and performance development.5
Of course, there is also an illegitimate way: concealing the use of performance-enhancing drugs. The sporting world is strewn with careers that have been shattered and reputations wrecked through the detection of banned substances in the blood and urine of some of these prized athletes. Offenses include cyclists injecting erythropoietin to create an overabundant supply of red blood cells, baseball players using anabolic steroids to stimulate muscle growth and enhance strength, sprinters inhaling beta 2 agonists in doses far exceeding the range used for treating asthma to get an extra jump in their stride and archers using beta blockers to steady their hands and calm their nerves.6 With the recent revelation that tennis star Maria Sharapova failed a urine toxicology test, we learned about meldonium, a heretofore unheard of drug in Western countries that gained popularity in the Soviet Union as a compound that purportedly enhanced the stamina of Soviet army recruits drafted to fight in the high-altitude mountain ranges of Afghanistan.7
Even one of our favorite drugs, probenecid, is on the World Anti-Doping Agency (WADA) watch list, because it has been used in nefarious ways to mask the presence of other banned substances.
There may also be a third way to gain that competitive edge—one that isn't illegal but still raises some serious questions. In these cases, the athlete seeks the advice and the prescribing powers of physicians who foster controversial approaches to managing selected complaints. This may take the form of injecting platelet-rich plasma or stem cells into aching joints and injured tendons in an effort to get them to heal more quickly. Or it may have arisen when an athlete, such as nine-time Olympic medalist Carl Lewis, felt lethargic as he struggled to earn a berth on the 1996 U.S. Olympic Team. After consulting with an endocrinologist who steadfastly believed that young, elite athletes are prone to developing hypothyroidism, even with normal levels of thyroid-stimulating hormone (TSH less than 2 units), Mr. Lewis began taking levothyroxine and immediately felt well enough to go on to win the gold medal in the long jump.8 Can one truly be hypothyroid with a normal level of TSH? Is this observation a scientific breakthrough or pseudoscience?
This same physician, who serves as a consultant to Nike, has also diagnosed five of the 30 members of its elite distance running team with hypothyroidism. That is an interesting statistic because hypothyroidism is highly uncommon in healthy young people. According to WADA, thyroid hormone use is not banned, because in their view, no evidence proves that it enhances performance. However, they seem to contradict themselves by banning human growth hormone use even though it, too, lacks data showing that it enhances athletic ability.
Gene Doping: The Next Frontier?
The transforming growth factor-beta superfamily includes a large group of growth and differentiation factors that play critical roles in regulating embryonic development and maintaining tissue homeostasis in adult animals. In 1997, researchers at Johns Hopkins University in Baltimore identified a new family member, myostatin, that is mainly expressed in skeletal muscle, which is also its primary target.9 Interestingly, the myostatin gene is a negative regulator of muscle growth and regeneration, and silencing it creates rodents with sizable muscle hypertrophy known affectionately as Schwarzenegger mice. This observation has caught the attention of WADA, which has expressed concern that its next challenge may be dealing with gene doping by athletes hoping to unleash muscle growth by inserting genes or their products into their muscles.
Silencing myostatin may serve other useful purposes; it is highly expressed in the synovial tissue of patients with rheumatoid arthritis, and it strongly accelerates receptor activity of RANK-L mediated osteoclast formation in vitro. Interfering with myo­statin by silencing the gene or targeting it via antibody-mediated inhibition reduces the bone destruction observed in certain rodent models of inflammatory arthritis.9 On the other hand, another model of myostatin knockout mice developed more advanced forms of joint damage as they aged.10 Why does biology have to be so complex?
Back to Brett
Brett was a mess; he was miserable and in constant pain. Prednisone did not douse the fire. An unexplained elevation of his liver enzymes precluded us from starting methotrexate for several weeks. Luckily, 1998 was the year that the first self-injectable biologic drugs came to market. After some terse interchanges with his insurer, which resisted efforts to have it cover the cost of the drug, he began anti-TNF therapy. Within weeks, Brett's disease achieved a sustained, and what became a permanent, remission. Three weeks before the opening ceremonies, Brett was judged to be well enough to travel to Sydney. With the help of a determined pharmacist and a terrific logistics expert at Federal Express, we figured how to continuously ship his drug to Australia while he competed, because his insurer balked at paying for more than two weeks' worth at a time.
Brett got his wish; he competed in the Olympics, although his boat finished out of medal contention. Over the years, I have seen him a few more times. He has carved out a lucrative career as a yachtsman, racing for a variety of sailing syndicates sponsored by an assortment of wealthy types; Russian and Chinese oligarchs, European royalty and a few plain old billionaires. He missed winning a medal at Sydney, but Brett still struck gold. He got his health back.
---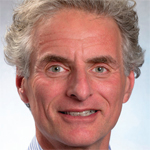 Simon M. Helfgott, MD, is associate professor of medicine in the Division of Rheumatology, Immunology and Allergy at Harvard Medical School in Boston.
References