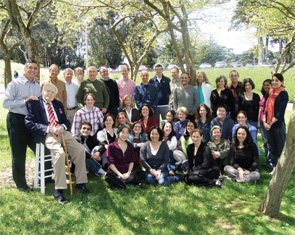 Ephraim Engleman (seated on chair) with seated (front row, from left): Tamiko Katsumoto, Mary Nakamura, Lianne Gensler; seated (second row, from left): Pedram Taher, Franziska Matzkies, Jennifer Barton, Mimi Margaretten, Urmila Bajpai, Clara Lin, Nicole Richman; seated (third row, from left): Adam Carlson, Laura Julian, Kari Connolly, Sharon Chung, Alice Chan, Diana Milojevic, Judith Ashouri, Robert Su, Gabriela Schmajuk; standing (from left): David Wofsy, Kenneth Sack, John Imboden, David Daikh, Gerson Bernhard, Ed Yelin, Jonathan Graf, Andy Gross, Michael Waterfield, Matthew Reimert, Mehrdad Matloubian, Maria Dall'Era, Emily von Scheven, Wally Epstein, Erica Lawson, Krishna Chaganti and Jinoos Yazdany.
Editor's note: This is the first in a recurring series of columns on the history of rheumatology that will highlight programs of excellence.
You Might Also Like
Explore This Issue
October 2014
Also By This Author
Whether preparing for a career in academics, clinical care, translational research or health services research, those who train in the Division of Rheumatology at the University of California San Francisco (UCSF) are rewarded with rich opportunities. Judging from the vibrancy of the division, its research programs and the success of program graduates, the division is living up to its stated mission to "advance the discipline of rheumatology through cutting-edge research and training of the next generation of academic rheumatologists."
ADVERTISEMENT
SCROLL TO CONTINUE
Several factors account for the 66-year-old program's success, including a faculty comprising world-renowned physician-scientists, such as immunologist Art Weiss, MD, a member of the National Academy of Sciences and former chief of the division. Geneticist Lindsey A. Criswell, MD, MPH, DSc, the current division chief, conducts research that has advanced the understanding of the role of genetics in rheumatoid arthritis and systemic lupus erythematosus. The UCSF Rheumatology Division has received National Institutes of Health (NIH) Autoimmunity Center of Excellence grants for the past three funding cycles (totaling 16 years), as well as three consecutive cycles of NIH funding for its Multidisciplinary Clinical Research Center.
ADVERTISEMENT
SCROLL TO CONTINUE

Mary Beth Humphrey
Cohesion across Sites
The Division offers a variety of clinical training opportunities at its four sites: the University of California Medical Center, the San Francisco Veteran's Administration Medical Center, San Francisco General Hospital and the UCSF Laurel Heights campus. Despite their disparate locations and areas of research, division faculty foster program cohesiveness. That's due, in no small part, to the genuine respect that all faculty have for one another, says David Wofsy, MD, professor of medicine and microbiology/immunology and associate director of the Rosalind Russell/Ephraim P. Engleman Rheumatology Research Center. "The scientists respect the clinicians, and the clinicians are interested in the science," he says. "It's all about the people, and if that tone [of respect] is genuine in your division, then new people adopt it when they come, too. It's self-perpetuating."