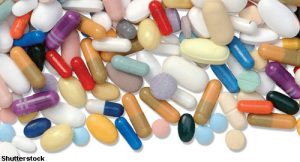 MADRID—The selective JAK1 inhibitor upadacitinib has proved effective for the treatment of rheumatoid arthritis (RA) when used in combination with methotrexate or other conventional synthetic disease-modifying anti-rheumatic drugs (csDMARDs). In a recent analysis of two phase 3 studies, the efficacy of upadacitinib plus methotrexate was directly compared with upadacitinib plus other csDMARDs in RA patients who had an inadequate response to csDMARDs (SELECT-NEXT study) or biologic DMARDs (bDMARDs) (SELECT-BEYOND study). The results of the analysis were presented during the 2019 European Congress of Rheumatology (EULAR), June 12–15. 1
Patients received either 15 mg or 30 mg of upadacitinib or placebo once daily for 12 weeks, along with csDMARDs. There were 661 patients in SELECT-NEXT and 498 patients in SELECT-BEYOND. In both studies, the primary endpoints were the rates of ACR20 response and Disease Activity Score 28-joint count C reactive protein (DAS28-CRP) ≤3.2. Other endpoints included: DAS28-CRP <2.6, Clinical Disease Activity Index (CDAI) low disease activity (≤10) and CDAI remission (≤2.8).
Patients were grouped on the basis of concomitant csDMARD use, either with methotrexate or with non-methotrexate csDMARDs. Non-methotrexate csDMARDs included sulfasalazine, leflunomide, hydroxychloroquine or chloroquine. Patients who received both methotrexate and a non-methotrexate csDMARD were included in the methotrexate group. The demographics and disease characteristics of both treatment groups were similar. Most patients were white females, and about half were also using oral corticosteroids at baseline.=
In SELECT-NEXT, 535 patients received methotrexate and 124 patients received non-methotrexate csDMARDS. In SELECT-BEYOND, 410 patients received concomitant methotrexate, while 82 patients received non-methotrexate csDMARDs.
All upadacitinib-treated patients achieved higher efficacy outcomes than placebo-treated patients, with no significant differences between efficacy outcomes in either upadacitinib-treated group. This post-hoc analysis of upadacitinib-treated patients showed efficacy of the agent whether it is used in combination with methotrexate or non-methotrexate csDMARDs.
---
Michele B. Kaufman, PharmD, BCGP, is a freelance medical writer based in New York City and a pharmacist at New York Presbyterian Lower Manhattan Hospital.
Reference
Kremer J, van den Bosch F, Rubbert-Roth A, et al. A comparison of upadacitinib plus methotrexate and upadacitinib plus other csDMARDs in patients with rheumatoid arthritis: An analysis of two phase 3 studies. Ann Rheum Dis. 2019 Jun. 78(suppl 2):A749.